by Nefertiti, Giftseller
My name is Nefertiti and I am a fan of Japanese anime and manga. I've been drawn (almost exclusively) to the visuals and storytelling associated with anime for decades at this point; it has influenced my own writing and personal aesthetics, and it is the media that makes me happiest. I take it Very Seriously. Many people will tell you that I am fussy or picky about the things I like, and they will be right. But my interests and fantasies are diverse, varied, and cross a number of genres, with the only common denominator being that they're meant for people a little bit older. I like drama, I like violence, and I like to look at beautiful things; usually I want to laugh, but sometimes I need to be devastated. Manga provides for all those emotional needs, sometimes all of them at once.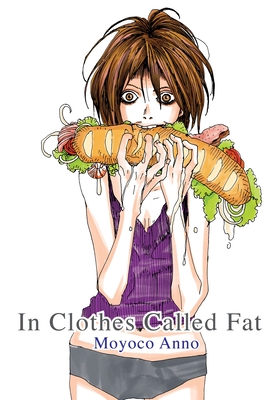 $ 16.95
In Clothes Called Fat
by Nefertiti
Thu, 05/28/2020 - 1:44pm
Mangaka (manga artist) Moyoco Anno's most notable work is the award-winning magical girl series Sugar Sugar Rune, geared towards middle grade and primary school-aged girls. However, Anno is mostly known for her josei manga, stories written for older girls and women, and she does not hold back in them. Most (if not all) of her work explores the complex (the volatile, the turbulent) relationship between desire, love, sexuality, and self-worth.
This is especially apparent in her 1997 manga, In Clothes Called Fat, which comes with a big, nice Content Warning for eating disorders and emotional abuse. Visually, In Clothes Called Fat is a beautiful and sensual manga—a darker manifestation of Anno's interest in fashion and design. Despite being printed in black and white, the setting and character designs are sexy and engaging.
As a story, it's emotionally ruthless; Noko Hanazawa is a young office lady on the brink of a breakdown – terrorized by a sadistic coworker and manipulated by her cheating boyfriend. Noko is so alone, and put through so many trials, you'd think Anno herself had a grudge against her; she isn't even particularly likable for much of the story, just incredibly sad. But actually, that's just life sometimes. Noko spends most of the manga in a depressive spiral, weathering emotional abuse and apathy from everyone around her. In Clothes Called Fat is a brutal reminder that sometimes, there is nobody who will, or can, help you, and at the end of the day all you can do is try to pick yourself back up.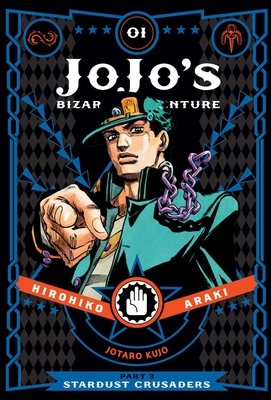 $ 19.99
JoJo's Bizarre Adventure: Part 3--Stardust Crusaders, Vol. 1 (JoJo's Bizarre Adventure: Part 3--Stardu #1)
by Nefertiti
Thu, 05/28/2020 - 1:47pm
...On the other end of the spectrum, there is Hirohiko Araki, author of one of Japan's longest running series, JoJo's Bizarre Adventure (1986). Unlike [Miyoco] Anno's manga, JoJo's Bizarre Adventure (JJBA) spans multiple volumes, over multiple parts. It's a big,multi-generational, globe-trotting epic that follows the story of the esteemed and honorable Joestar family, mainly the Joestar men.
Like Anno, Araki is deeply influenced by fashion and art; his most conspicuous references are music-related. The characters and settings are all heavily designed, and huge emphasis is placed on the action art, making the whole series visually stimulating from beginning to end. JJBA holds a special place in my heart for its absurd character design: handsome, beefy grandfather and grandson duos; clowns with scythes; a murderous, megalomaniacal vampire king whose motif is a heart; there's always something going on.
Like many series, it's best to read the books in chronological order. Having said that, JoJo's Bizarre Adventure: Stardust Crusaders, aka JJBA Part 3, is where the story really starts to come together, moving away from establishing the family history and world building, and straight into the fighting and action the series is well-known for. Never gory, but plenty violent, JJBA Part 3 follows a group of men on a journey to save their family and destroy the previously mentioned vampire king. It's a straightforward story, and the characters aren't particularly complex—there are heroes, villains, and villains who become heroes—but they are given such strong and absurd personality traits that feeling affection towards them, and emotionally investing in their journey, is inevitable.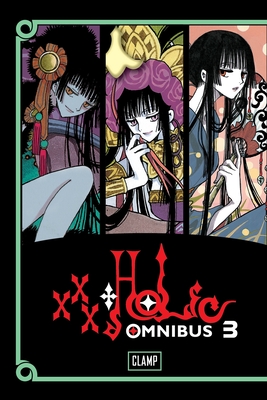 $ 19.99
xxxHOLiC Omnibus 3
by Nefertiti
Thu, 05/28/2020 - 1:49pm
As a reader, I tend to prefer serialized manga; the small volumes are easy to carry around, relatively cheap, and easy to finish. Over the years I've been (slowly) making my way through one of my all-time favorite series: xXxHOLiC by the manga circle CLAMP. Again, on the surface the story is pretty cut and dry: a young man has the ability to see and interact with ghosts, and makes a deal with the owner of a mystical shop to get rid of his power. But as each character is introduced, and the story moves out of the shop into the open world, more mysteries are unveiled and the web connecting everyone gets more intricate.
Unlike [Moyoco] Anno and [Hirohiko] Araki's works, which focus on character narratives and action, xXxHOLiC is a demonstration in complex storytelling; as my friend would say, "it's very literary," and I wholeheartedly agree. The characters are written with such nuance, that growth, conflict, and relationships between each of them seem to occur organically; not at all the result of a mapped-out story. CLAMP's characters serve specific, but fluid roles within the story; strengths and weaknesses don't apply to just one figure, but all of them, and all of their challenges are intertwined.
The high-level writing is accompanied by some of CLAMP's most elegant artwork – designs influenced not just by art and beauty, but history, culture, tradition, and nature. Much like the story that the art is supporting, the designs and settings are painstakingly crafted: clues woven into the fabrics of the characters' clothing; innocuous photos on a person's desk; and antique and magical artifacts that appear to be decorative, but inevitably hold more power than you think. On top of all that mystery and intrigue, and while the characters are all growing into themselves, xXxHOLiC maintains an air of playfulness that keeps its characters and readers hopeful, no matter what.