The Sirtfood Diet: 3 Books in 1: Complete Beginners Guide & Cookbook with 250+ Tasty Recipes! Burn Fat Activating Your "Skinny Gene"! A S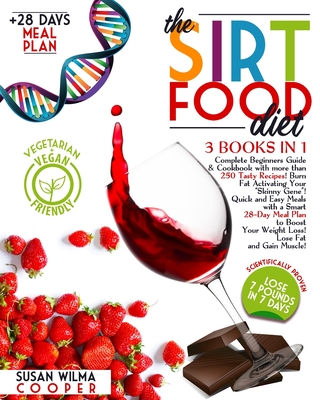 The Sirtfood Diet: 3 Books in 1: Complete Beginners Guide & Cookbook with 250+ Tasty Recipes! Burn Fat Activating Your "Skinny Gene"! A S
Unavailable
This item may not be available to order. Please call 617-566-6660 for more information.
➜➜Are you looking for a diet to lose weight rapidly without losing your muscle mass and starving? Do you think it would be a "miracle" to lose weight fast? If you don't know how to do it... you need a step-by-step guide with more than 250 recipes and a 4-week meal plan to follow easily
So...If that's the case... It's time to consider to know about the Sirtfood Diet
Do you think that is the usual seasonal fad or hype diet doomed to disappear? Well, then you are wrong This diet is thought of as a lifestyle and not as a diet to lose only weight. Like other diets, i.e., the ketogenic one, the Sirtfood diet is based on scientifically proven activation mechanisms for the body's natural slimming and burning fat.
How does it happen? The Sirtfood Diet consists of eating foods that contain high levels of sirtuins. Sirtuins are particular proteins in everyday foods like wine and chocolate that can boost your metabolism for a long time by activating your "skinny gene." Making the Sirtfood diet a lifestyle will experience a noticeable change in your health with high benefits. It has been proven to be not only easy to follow but very effective. Indeed, it can be usefully employed to slow down the aging process.
This Sirtfood diet offers a flexible approach that adapts to your needs. The diet allows delicious foods like chocolate and red wine, which, combined with other sirtuin-rich foods, will take your body and health to the next level
In "The Sirtfood Diet" 3 books in 1, you will learn the exact steps to follow the perfect Sirtfood diet according to its creator and adopt a healthy life. Inside this guide, you will also find more than 250 easy but delicious Sirtfood recipes, from breakfast to dinner, and a 28-day meal plan.
"The Sirtfood Diet" 3 books in 1 is NOT the classic diet cookbook; it is an EASY-TO-FOLLOW BOOK to understand quickly and start IMMEDIATELY, whether you are a meat-lover or prefer plant-based nutrition since it contains many vegan and vegetarian-friendly recipes.
✓ All that you have to know about the Sirtfood diet is here
✓ All the Phases that you need to follow step by step
✓ Do you have doubts about who and when you can do the diet? Check the Q&A section
✓ Do you know that the Sirtfood diet is not only for weight loss? Check all the Benefits
✓ Do you know what the best 20 Sirtfoods are? Let's discover it together
✓ If you want to build muscle mass, let's see together how Sirtfood can do help you
✓ Many Healthy and easy-to-follow recipes for all the taste with not only meat A lot of Vegetable and Fish Recipes
✓ Do you know that Chocolate is a Sirtfood? Let's see together the snacks and desserts
✓ You don't know how to start to do it? In this book, you will find a 28-day meal plan to start
... and much more
You deserve to live quietly If you no longer want to live by counting calories and becoming crazy, cooking different dishes for each family member. You will not need to look any further for a comfortable, healthy weight loss and a healthy diet. This is the perfect guide to your new lifestyle, and this book is what you are looking for
Now, start your success from Day 1 Scroll up, click 'Buy Now' and Get Your Copy
ISBN: 9798705518753
ISBN-10: 9798705518753
Publisher: Independently Published
Publication Date: 02/06/2021 - 12:00am
On Sale: 02/06/2021 - 12:00am
Pages: 222
Language: English
Categories