The Cyrus Mandate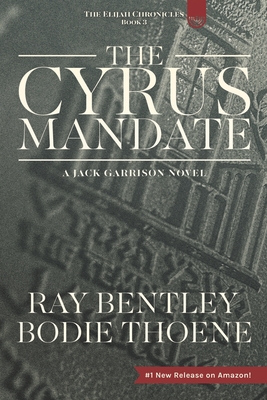 The Cyrus Mandate
Out of Stock In Store (Click to Order)
This item may not be available to order. Please call 617-566-6660 for more information.
A plot to kill. Dark secrets from the Deep State. Visions linking the past, present, and future. A 2500 years-old prophecy, the Cyrus Mandate, is coming to life in our present-day headlines and current events. First issued by an ancient Persian King, the Cyrus Mandate is awakened again through the Abrahamic Accord peace treaty, causing the entire world to take notice. National elections, international leaders, even Middle East negotiations appear to be following the ancient path. Everything and everyone involved becomes part of seeing how this promise will be fulfilled. As Jack and Bette Garrison are drawn into a dangerous international conspiracy while celebrating their honeymoon, they discover the Cyrus Mandate's secrets. They travel from Paris to the U.S. to Israel to help rescue a brave reporter and learn the terrifying secrets she has uncovered. Drugs, trafficking, and corruption at the highest levels revolve around a world-wide pandemic, anti-Israel propaganda, racial tensions-and ancient prophecies being fulfilled. Page-turning action, romance, history, and prophecy come to life as Ray Bentley and Bodie Thoene release the third installment of The Elijah Chronicles: The Cyrus Mandate.
ISBN: 9798686972469
ISBN-10: 9798686972469
Publisher: Independently Published
Publication Date: 09/19/2020 - 12:00am
On Sale: 09/19/2020 - 12:00am
Pages: 270
Language: English
Categories