Megan Wren: A Life-Long Writer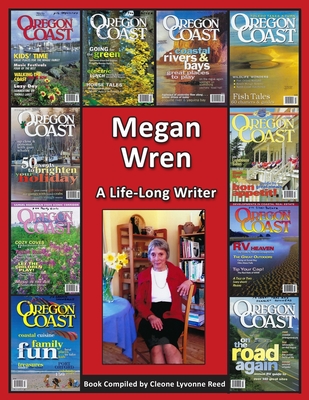 Megan Wren: A Life-Long Writer
Out of Stock In Store (Click to Order)
This item may not be available to order. Please call 617-566-6660 for more information.
Writing comes naturally to Megan Wren. She has loved to write all her life it was something most everyone in he family did. Now at age 90, she is reaping the attention for her work she so richly deserves. This book is a glimpse into some of her writing, i.e., articles that she wrote and published for the OREGON COAST magazine between 1999 and 2004. Permission was granted from OREGON COAST magazine to publish these articles in this book.) In the January/February 2004 issue of OREGON COAST magazine, Megan Wren wrote an article called "Horizontal Rain." This was a fitting topic by a Bandon, Oregon, resident because Bandon gets an average annual rainfall of 62+ inches, in contrast to the United States' average of 38 inches.Megan Wren recently published a novel here on Amazon called REMOTE. The setting is in Remote, Oregon, an uninhabited hamlet in Coos County, Oregon. A master at character development, Megan Wren's novel is captivating and memorable.This book here, MEGAN WREN: A Life-Long Writer, also includes an article that Amy Moss Strong wrote and featured on the front page of the WESTERN WORLD newspaper of Bandon, OR (again, permission was received). This article gives a synopsis of Megan Wren's life. Megan Wren's publisher/editor, Cleone Lyvonne Reed, scanned these magazine articles and compiled this book for Megan.
ISBN: 9798674563761
ISBN-10: 9798674563761
Publisher: Independently Published
Publication Date: 08/12/2020 - 12:00am
On Sale: 08/12/2020 - 12:00am
Pages: 78
Language: English
Categories