Their Yesterdays: Original Text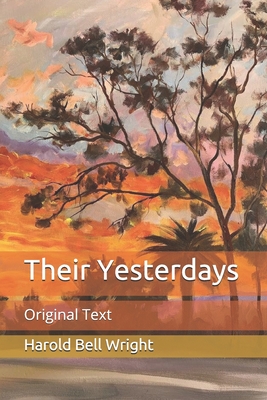 Their Yesterdays: Original Text
Out of Stock In Store (Click to Order)
This item may not be available to order. Please call 617-566-6660 for more information.
The man, for the first time, stood face to face with Life and, for the first time, knew that hewas a man.For a long time he had known that some day he would be a man. But he had always thoughtof his manhood as a matter of years. He had said to himself: "when I am twenty-one, I willbe a man." He did not know, then, that twenty-one years-that indeed three times twentyone years-cannot make a man. He did not know, then, that men are made of other thingsthan years.I cannot tell you the man's name, nor the names of his parents, nor his exact age, nor justwhere he lived, nor any of those things. For my story, such things are of no importancewhatever. But this is of the greatest importance: as the man, for the first time, stood face toface with Life and, for the first time, realized his manhood, his manhood life began inDreams.It is the dreams of life that, at the beginning of life, matter. Of the Thirteen Truly GreatThings of Life, Dreams are first.It was green fruit time. From the cherry tree that grew in the upper corner of the gardennext door, close by the hedge that separated the two places, the blossoms were gone andthe tiny cherries were already well formed. The nest, that a pair of little brown birds hadmade that spring in the hedge, was just empty, and, from the green laden branches of thetree, the little brown mother was calling anxious advice and sweet worried counsel to hersons and daughters who were trying their new wings.In the cemetery on the hill, beside a grave over which the sod had formed thick and firm, there was now another grave-another grave so new that on it no blade of grass hadstarted-so new that the yellow earth in the long rounded mound was still moist and theflowers that tried with such loving, tender, courage, to hide its nakedness were not yetwilted. Cut in the block of white marble that marked the grass-grown grave were thedearest words in any tongue-Wife and Mother; while, for the new-made mound that layso close beside, the workmen were carving on a companion stone the companion words.
ISBN: 9798653383939
ISBN-10: 9798653383939
Publisher: Independently Published
Publication Date: 06/12/2020 - 12:00am
On Sale: 06/12/2020 - 12:00am
Pages: 132
Language: English
Categories