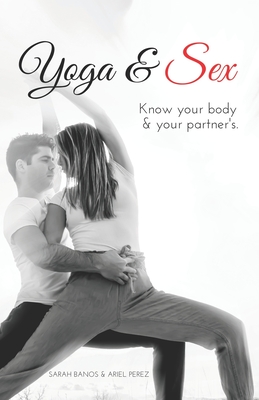 Yoga & Sex
Order Online (Out of Stock In Store)
Yoga and Sex, authored by Sarah Banos and Ariel Perez, offers a thorough exploration of knowledge that will allow you to be more connected with your body and that of your partner's from a completely new perspective and from an innovative approach. In the pages of this book the reader will learn that the practice of yoga not only improves both your physical and mental health, but is also an excellent option if you want to pursue and achieve the utmost sexual pleasure in a healthy way.
Sarah Banos graduated from college with a B.A in Computer Science in 2013 in Cuba, her birth country. Practicing yoga showed her a wonderful and healthy world of wellbeing that she became passionate about, which is the reason why she decided to change professional paths and got certified as a Yoga and Meditation Instructor.
In order to encourage the practice of Yoga she founded the community "Invite Yoga Into Your Life," that is characterized by a dynamic yet simple style that is accessible for everyone and meant for people to feel good about themselves while enhancing physical, mental, and emotional health.
Sarah has developed a number of free classes and programs in several online platforms. She authored the book "Invite Yoga into Your Life", which incentivizes the knowledge and practice of Yoga by using her own abilities and needs and based on the idea that Yoga is for everybody.
"Yoga shows us the road to our own wellbeing" - Sarah Banos.
Ariel Perez graduated from college with a B.A in Computer Science in 2015 in Cuba, and is the cofounder of "Invite Yoga into Your Life." He is passionate about IT and computer science which in connection with his knowledge and enthusiasm about the practice of Yoga has helped him as a foundation to conceptualize and make a reality this project of health and well-being. This work serves as a platform for him to express his life's vision. He has participated in several training courses on yoga and meditation.
"Sex is two people coming together in pleasure and enjoyment" - Ariel Perez
ISBN: 9798615172496
ISBN-10: 9798615172496
Publisher: Independently Published
Publication Date: 05/12/2020 - 12:00am
On Sale: 05/12/2020 - 12:00am
Pages: 130
Language: English
Categories