Populists and Progressives: The New Forces in American Politics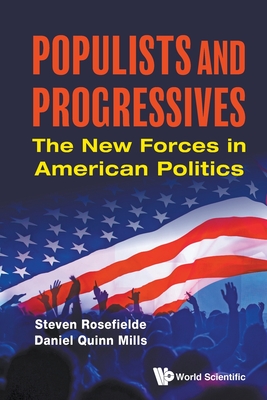 Populists and Progressives: The New Forces in American Politics
Out of Stock In Store (Click to Order)
This item may not be available to order. Please call 617-566-6660 for more information.
Populists and Progressives alerts readers to dramatic changes in the ideological and political structure of America's Democratic and Republican parties roiling Washington and shaping the 2020 presidential election. America now has four distinct contentious political orientations: progressive, liberal, conservative and populist. The least well understood are the progressives, whose programs are often confused with socialism, and populists stigmatized as reactionaries. Each has its own agenda and presses programs that are incompatible with one another, auguring protracted strife and paralysis. The book carefully elaborates the substance of each movement and analyses the social, political and economic forces driving them. It assesses their staying power and prospects in the 2020 presidential election. The analysis reveals that most contemporary American political commentary is intensely partisan and relies on obsolete notions of Democrat and Republican party doctrine and rivalry, obscuring the transformation of American society, politics and economy. Populists and Progressives assists readers to dispel the fog, allowing them to judge the present danger and help in the search for consensus solutions.
ISBN: 9789811218408
ISBN-10: 9789811218408
Publisher: World Scientific Publishing Company
Publication Date: 06/02/2020 - 12:00am
On Sale: 06/11/2020 - 12:00am
Pages: 192
Language: English
Categories