La isla de las mujeres del mar / The Island of Sea Women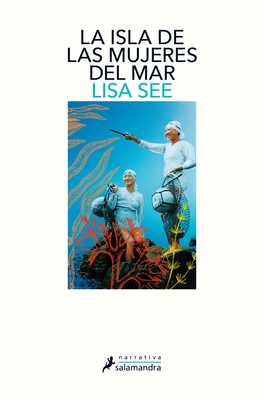 La isla de las mujeres del mar / The Island of Sea Women
On Our Shelves Now
Una inmersión meticulosa en una cultura fascinante en vías de desaparición.

Conocidas por su espíritu independiente y su tenaz voluntad, las haenyeo —mujeres buceadoras de la isla surcoreana de Jeju— constituyen uno de los principales símbolos culturales de este país asiático. Fascinada por esta sociedad matriarcal, Lisa See nos brinda una hermosa y reflexiva novela sobre los lazos de amistad de dos jóvenes haenyeo —Kim Young-sook y Han Mi-ja— y las poderosas fuerzas, tanto naturales como históricas, que las rodean: una historia de amistad que continúa durante cincuenta años, en los que la vida de las dos jóvenes se verá envuelta en acontecimientos tan trágicos y extraordinarios como la Segunda Guerra Mundial, la Guerra de Corea, la irrupción de los teléfonos móviles y otros avances que traerán nuevas políticas y nuevas ideas a la isla.

ENGLISH DESCRIPTION

THE NEW YORK TIMES BESTSELLER

"A mesmerizing new historical novel" (O, The Oprah Magazine) from Lisa See, the bestselling author of The Tea Girl of Hummingbird Lane, about female friendship and devastating family secrets on a small Korean island.

Mi-ja and Young-sook, two girls living on the Korean island of Jeju, are best friends who come from very different backgrounds. When they are old enough, they begin working in the sea with their village's all-female diving collective, led by Young-sook's mother. As the girls take up their positions as baby divers, they know they are beginning a life of excitement and responsibility—but also danger.

Despite their love for each other, Mi-ja and Young-sook find it impossible to ignore their differences. The Island of Sea Women takes place over many decades, beginning during a period of Japanese colonialism in the 1930s and 1940s, followed by World War II, the Korean War, through the era of cell phones and wet suits for the women divers. Throughout this time, the residents of Jeju find themselves caught between warring empires. Mi-ja is the daughter of a Japanese collaborator. Young-sook was born into a long line of haenyeo and will inherit her mother's position leading the divers in their village. Little do the two friends know that forces outside their control will push their friendship to the breaking point.

"This vivid…thoughtful and empathetic" novel (The New York Times Book Review) illuminates a world turned upside down, one where the women are in charge and the men take care of the children. "A wonderful ode to a truly singular group of women" (Publishers Weekly), The Island of Sea Women is a "beautiful story…about the endurance of friendship when it's pushed to its limits, and you…will love it" (Cosmopolitan).
LISA SEE nació en París y se crió en el seno de una familia china asentada en Estados Unidos. En 2005, El abanico de seda se convirtió en un best-seller y recibió numerosos premios. Este éxito se confirmó con El pabellón de las peonías y Dos chicas en Shangái.
ISBN: 9788498389869
ISBN-10: 9788498389869
Publisher: Salamandra
Publication Date: 06/09/2020 - 12:00am
On Sale: 06/09/2020 - 12:00am
Pages: 432
Language: Spanish
Categories