El día del ajuste /Adjustment Day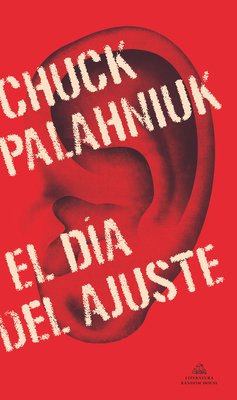 El día del ajuste /Adjustment Day
Pre-Order (Not Yet Published)
Una sátira macabra y deforme de Estados Unidos.

«Heredera de El club de la lucha, El Día del Ajuste es una de las novelas más ingeniosamente jodidas, atractivas y originales publicadas este año. Piensa en Will Self, George Orwell, Stephen King y William Burroughs mezclados en un coctel molotov.» Attitude

La palabra se transmite únicamente entre los elegidos de plena confianza. El misterioso libro azul de Talbott Reynolds pasa de mano en mano en la clandestinidad y una sociedad sedienta de la sangre de la élite se prepara para seguir sus instrucciones: el Día del Ajuste está aquí. Cuando llegue, los Más Odiados de América serán ejecutados y un nuevo orden se instaurará. Y los Estados Unidos se reunificarán en tres nuevos estados separados según la raza y las preferencias sexuales.

Chuck Palahniuk muestra sin tapujos la grotesca realidad que tendría lugar si las fantasías separatistas y las teorías conspirativas que alberga la psique norteamericana se llegasen a imponer. Esta deforme y macabra sátira de la sociedad estadounidense aviva, con una exageración todavía más brutal y en un presente de agitación social sin precedentes, los puñetazos que El club de la lucha asestó al sistema.

ENGLISH DESCRIPTION

New York Times Bestseller

"An irreverent satirical fantasy about a sudden and violent upheaval.…Think Tom Robbins channeling Jonathan Swift." ―David Takami, Seattle Times
Adjustment Day is an ingenious darkly comic work in which Chuck Palahniuk does what he does best: skewer the absurdities in our society. Geriatric politicians bring the nation to the brink of a third world war to control the burgeoning population of young males, while working-class men dream of burying the elites. Adjustment Day's arrival makes real the logical conclusion of every separatist fantasy, alternative fact, and conspiracy theory lurking in the American psyche.
Chuck Palahniuk nació en el estado de Washington en 1962. Es licenciado en periodismo y ha trabajado en una empresa de fabricación de contenedores, en una cadena de montaje y como mecánico. Escribió su primera novela, El club de la lucha, en tres meses; casi tan rápida fue también su conversión en un bestseller que, además, terminó siendo adaptada al cine. Actualmente es un autor de gran éxito cuyo nombre aparece muy a menudo en la lista de los más vendidos en Estados Unidos. Otros títulos del autor son Monstruos invisibles, Asfixia, Nana, Diario. Una novela, Error humano, Fantasmas, Rant. La vida de un asesino, Snuff, Pigmeo, Al desnudo, Condenada y su continuación, Maldita. Todas ellas están publicadas por Literatura Random House y Debolsillo.

Vive en la Costa Noroeste de Estados Unidos.
ISBN: 9788439737797
ISBN-10: 9788439737797
Publisher: Literatura Random House
Publication Date: 05/18/2021 - 12:00am
On Sale: 05/18/2021 - 12:00am
Pages: 400
Language: Spanish
Categories