Quidditch a Través de Los Tiempos. Edición Ilustrada / Quidditch Through the Ages: The Illustrated Edition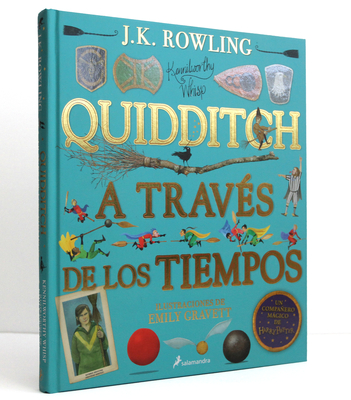 Quidditch a Través de Los Tiempos. Edición Ilustrada / Quidditch Through the Ages: The Illustrated Edition
Out of Stock In Store (Click to Order)
The definitive guide to the most popular sport in J.K. Rowling's Harry Potter series, now fully illustrated by award-winning artist Emily Gravett
Si alguna vez te has preguntado de d nde proviene la snitch dorada, c mo adquieren vida las bludgers o por qu los Wigtown Wanderers llevan un cuchillo de carnicero dibujado en el uniforme, entonces querr's leer Quidditch a trav's de los tiempos. Esta nueva edici n exquisitamente ilustrada por Emily Gravett, ganadora en varias ocasiones de la Medalla Kate Greenaway, es una copia del ejemplar que est en la biblioteca del Colegio Hogwarts y que los j venes fans del quidditch consultan casi a diario. Con una introducci n y notas de J.K. Rowling, esta obra emocionar y deleitar tanto a muggles como a magos.
ENGLISH DESCRIPTION
The definitive guide to the most popular sport in J.K. Rowling's Harry Potter series, now fully illustrated.

If you have ever asked yourself where the Golden Snitch came from, how the Bludgers came into existence, or why the Wigtown Wanderers have pictures of meat cleavers on their robes, you need Quidditch Through the Ages. This invaluable volume is consulted by young Quidditch fans on an almost daily basis. Now fully illustrated in brilliant color by award-winning artist Emily Gravett, this special new edition is a beautiful gift for Harry Potter fans and Quidditch enthusiasts alike.
ISBN: 9788418174131
ISBN-10: 9788418174131
Publisher: Salamandra Infantil Y Juvenil
Publication Date: 02/23/2021 - 12:00am
On Sale: 02/23/2021 - 12:00am
Pages: 160
Language: Spanish
Categories