Norman Mailer. Moonfire. Édition 50E Anniversaire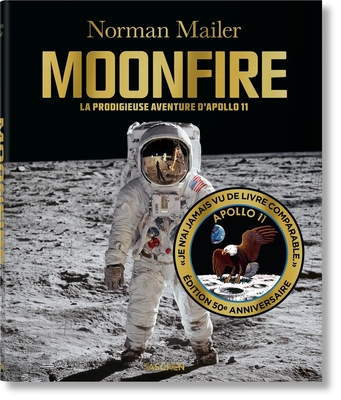 Norman Mailer. Moonfire. Édition 50E Anniversaire
Out of Stock In Store (Click to Order)
This item may not be available to order. Please call 617-566-6660 for more information.
Le 20 juillet 1969, l'humanit assista un moment historique: Neil Armstrong, Buzz Aldrin et Michael Collins exau aient le souhait de John F. Kennedy de voir les premiers hommes marcher sur la Lune avant la fin des ann es 1960. Il fallut dix ans de tests et de pr paration, une quipe de 400 000 ing nieurs et scientifiques, un budget de 24 milliards de dollars et la fus e la plus puissante jamais lanc e dans l'espace pour donner naissance cet v nement sans pr c dent, suivi par des millions de personnes travers le monde. Norman Mailer a su comme personne restituer ce formidable d fi technique, cette incroyable aventure humaine.Norman Mailer, un des plus grands crivains du XXe si cle, avait t engag par le magazine LIFE pour couvrir la mission lunaire. Mailer a ensuite enrichi et approfondi son reportage de nouvelles r flexions dans son remarquable ouvrage, Bivouac sur la Lune, dont ce livre offre de longs extraits. Aussi l'aise pour pr senter l'aspect scientifique des voyages dans l'espace que pour aborder la psychologie des personnes impliqu es dans l'aventure, du concepteur de la fus e Saturn V, Wernher von Braun, aux trois astronautes, en passant par la formidable quipe technique de la NASA, Mailer offre un point de vue la fois incisif et provocateur sur cet v nement cl de l' poque.
Pour illustrer cet ouvrage, des centaines de photos et plans ont t 's lectionn es parmi les fonds de la NASA, les archives de magazines ou des collections priv es. Ces images illustrent le d veloppement de l'agence spatiale am ricaine et le d roulement de la mission, de la vie l'int rieur du module de commande la sortie sur la Lune, en passant par la joie que ce succ's a suscit e dans le monde entier. Cette dition sp ciale anniversaire r unit des l gendes r dig es par les sp cialistes d'Apollo 11, qui d voilent l'histoire et la technique derri re ces images, citant le journal de bord, des publications de l' poque et les interviews des astronautes leur retour, ainsi qu'une introduction vocatrice de Colum McCann qui c l bre l'incomparable talent de Mailer pour transformer la science de l'espace... le poids de l'histoire... le souffle de la mythologie en prose.
ISBN: 9783836571159
ISBN-10: 9783836571159
Publisher: Taschen
Publication Date: 06/12/2019 - 12:00am
On Sale: 05/24/2019 - 12:00am
Pages: 348
Language: French
Categories
Subjects & Themes - Historical