Chemical Engineering Dynamics, Includes CD-ROM: An Introduction to Modelling and Computer Simulation [With CDROM]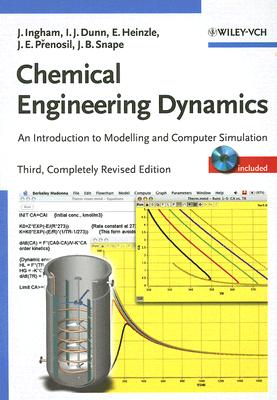 Chemical Engineering Dynamics, Includes CD-ROM: An Introduction to Modelling and Computer Simulation [With CDROM]
Out of Stock In Store (Click to Order)
This item may not be available to order. Please call 617-566-6660 for more information.
Die Dynamik chemischer Produktionsprozesse ist u Ÿerst komplex. Ziel des Buches ist es, diese Vorg nge durch systematische Modellbildung und Computersimulation verst ndlich und durchschaubar zu machen.
Es werden vereinfacht, ohne viel mathematisches R 1/4stzeug, Grundprinzipien erkl rt und anhand von nahezu 100 praxisrelevanten Beispielen (zu finden auf www.wiley-vch.de) alle wichtigen Aspekte der chemischen Verfahrenstechnik ausf 1/4hrlich beschrieben. Die verwendete Simulationssprache Berkeley Madonna erlaubt ein schnelles interaktives œben. Der Leser kann die vorgegebenen Beispiele beliebig ver ndern, um sie seinem Problemfall anzupassen. Die vorgegebene L sung empfiehlt sich als praktische Anleitung. Die langj hrige Lehrerfahrung der Autoren an Hochschulen und Weiterbildungskursen kommt diesem Buch zugute: Chemieingenieure, Verfahrenstechniker, Chemiker aber auch Studenten und Dozenten der erw hnten Fachrichtungen werden davon gleicherma Ÿen profitieren.
ISBN: 9783527316786
ISBN-10: 9783527316786
Publisher: Wiley-Vch
Publication Date: 07/23/2007 - 12:00am
On Sale: 07/23/2007 - 12:00am
Pages: 618
Language: English
Categories