A Year of Questions: A 52-Week Q&A Book for Couples to Complete Together, Connect, and Have Meaningful Conversations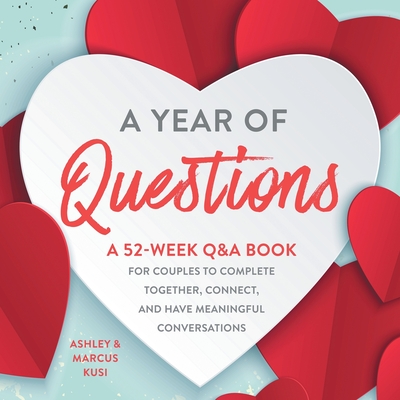 A Year of Questions: A 52-Week Q&A Book for Couples to Complete Together, Connect, and Have Meaningful Conversations
Out of Stock In Store (Click to Order)
This item may not be available to order. Please call 617-566-6660 for more information.
A Year of Questions: A 52-Week Q&A Book for Couples to Complete Together, Connect, and Have Meaningful Conversations
A Year of Questions is the perfect Q&A book for couples to spend quality time together, connect, and have meaningful conversations.
With this Q&A journal for couples, you'll be able to:
1. Spend quality time with your significant other, so you can connect and strengthen intimacy in your relationship.
More specifically, there are 52 engaging and thought-provoking questions for couples to complete together.
2. Create a new weekly date night activity; a fun thing for couples to do together.
3. Have exciting/interesting conversations about your relationship, appreciate, and understand your partner better.
4. Open up to each other, communicate your needs, share your dreams and memories.
5. Learn new things about your partner and reflect on your relationship.
What's more, the questions that cover topics such as communication, gratitude, life experiences, money, sex, and much more. You can even use them as conversation starters.
Plus, this question and answer journal for couples is simple, easy to use, and has enough room to comfortably write your answers. If you don't like writing, you can simply discuss your answers.
Lastly, A Year of Questions makes a great engagement, relationship anniversary, bridal shower, Christmas, birthdays, holidays, or wedding gift for your friends and family.
Now:
Get your copy of this Q&A book for couples today.
ISBN: 9781949781137
ISBN-10: 9781949781137
Publisher: Our Peaceful Family
Publication Date: 03/06/2020 - 12:00am
On Sale: 03/06/2020 - 12:00am
Pages: 120
Language: English
Categories
Marriage & Long Term Relationships