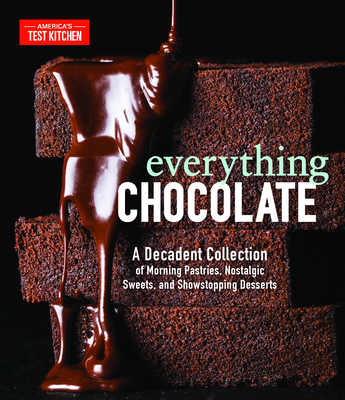 Everything Chocolate: A Decadent Collection of Morning Pastries, Nostalgic Sweets, and Showstopping Desserts
On Our Shelves Now
Make your decadent dreams come true with this chocolate-covered collection of more than 200 foolproof recipes that showcase the treasured dessert ingredient--from delicious morning baked goods and pick-me-up treats to rich after-dinner delights for special occasions.

Chocolate may be the most universally loved (and craved) flavoring, and Everything Chocolate is the definitive guide to any sweet treat you can imagine featuring it, for any time of day. Wake up with streusel-topped Chocolate-Walnut Muffins that are easy to make or professional-grade Chocolate Croissants when weekend time allows. Pack lunches with pleasing Milk Chocolate Revel Bars or serve Magic Chocolate Flan Cake or Chocolate Pavlova with Berries and Whipped Cream after dinner.

Much of why we fall for chocolate is because it brings back memories of candy bar snacks and sneaking just-baked chocolate chip cookies while they're still warm (we have the best recipe). We channel the nostalgia in recipes like Chocolate Fluff Cookies and Frozen Snickers Ice Cream Cake. But chocolate is also a grown-up favorite for black-tie desserts--think low, lush slices like Blood Orange Chocolate Tart or ganache-enrobed Chocolate-Pecan Torte (we'll teach you how to get a perfectly smooth coating). The full range of chocolate recipes is here, avoiding the pitfalls of unbalanced chocolate flavor (too bitter or too sweet) or dry, crumbly baked goods (chocolate contains starch and we've learned how to mind it). Become a home chocolatier by learning all about chocolate nomenclature, how to shop for the best-tasting cocoa powder, when you should use chocolate bars versus chips, decorating dazzling desserts with chocolate, and how to make candies and cookies with shiny, snappy chocolate coatings with our shortcut to tempering.
America's Test Kitchen is well-known for its top-rated television shows with more than 4 million weekly public television viewers, bestselling cookbooks, magazines, websites, and cooking school. The highly reputable and recognizable brands of America's Test Kitchen, Cook's Illustrated, and Cook's Country are the work of over 60 passionate chefs based in Boston, Massachusetts, who put ingredients, cookware, equipment, and recipes through objective, rigorous testing to identify the very best. Discover, learn, and expand your cooking repertoire with Julia Collin Davison, Bridget Lancaster, Jack Bishop, Dan Souza, Lisa McManus, Tucker Shaw, Bryan Roof, and our fabulous team of test cooks!
America's Test Kitchen will make you feel like a great baker no matter what level you're at. All of their recipes have explanations about why they work - they don't just tell you what to do and ask you to trust them. There are tips on some that will help you in your other projects (e.g. espresso powder really helps bring out chocolate flavor), and at the beginning of the book they have a whole section about dealing with chocolate. Working with chocolate can be finicky - knowing I have this book as reference has greatly improved my confidence.
Everything in this book has chocolate, but not all of it is slap-you-in-the-face chocolatey (there is some of that, though, fear not). There are recipes for croissants and babka, churros with dipping sauce and a chocolate eclair cake. I'm flipping through it as I write this blog post, and let me tell you, I might just have to bake my way through this entire book.
Tried and True Recipe: Ultimate Chocolate Cupcakes
I made this recipe for my roommate's birthday, and the two of us ate the entire batch. I've been dreaming about them since. These cupcakes are soft without being crumbly, and they have a chocolate ganache filling that is delicious whether you're eating the cupcakes straight out of the oven or four days later slathered with cream cheese frosting.
ISBN: 9781948703086
ISBN-10: 9781948703086
Publisher: America's Test Kitchen
Publication Date: 01/28/2020 - 12:00am
On Sale: 01/28/2020 - 12:00am
Pages: 376
Categories
Cooking / Specific Ingredients / Chocolate