Multiculturalism (The Journal of the Western Institute for Social Research #1)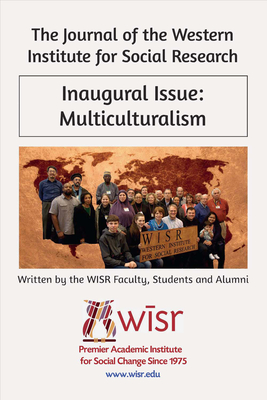 Multiculturalism (The Journal of the Western Institute for Social Research #1)
By John Bilorusky ,
Margery Coffey ,
Osahon Eigbike ,
Sevgi Fernandez ,
Steven Fletcher ,
Dennis Hastings ,
David Hough ,
Zak Kondo ,
Cynthia Lawrence ,
Ronald Mah ,
Jake Sloan ,
Heather Watkins ,
Ana Y ,
Editor
Keith Lawrence
Unavailable
This item may not be available to order. Please call 617-566-6660 for more information.
This is the inaugural issue of the Journal of the Western Institute for Social Research (WISR). This issue's theme is "multiculturalism." Included are articles on such topics as: multicultural therapy, ethnographies of learning, Chinese learners working in groups, the role of language in multicultural relationships,as well as the role of language in indigenous education among the Omaha people, and action-oriented research methods to pursue racially and ethnically inclusive historical analyses. Articles were the result of the inquiries of faculty, students and alumni of the Western Institute for Social Research (WISR). Articles in this issue: Multicultural is WISeR (by John Bilorusky, PhD and Cynthia Lawrence, PhD); Multicultural Therapy (by Heather Watkins); A Historian's Reflection on Action Research (by Zak Kondo, PhD) Foundations of a Quiet Rebel (by Jake Sloan) Ethnographies of Learning (by David Hough, PhD) Looking Through Heritage Lens (by Osahon Chris Eigbike, PhD) Chinese Learners Working in Groups (by Steven Fletcher, PhD) The Importance of Cultural Interpretation of Marriage (by Ana Y) The Role of Language in Indigenous Education (by Dennis Hastings, PhD and Margery Coffey, PhD) Why We Teach Racism and Prejudice (and How We Can Stop) (by David Hough, PhD) Insider's Perspective on the Biracial Community (by Sevgi Fernandez) All Relationships and Therapy Are Multicultural-Family and Cross-Cultural Complications (by Ronald Mah, LMFT, PhD) Since 1975, WISR has successfully supported the creative, community involvement efforts of hundreds of adult learners--through its highly personalized, socially progressive and interdisciplinary BS, MS and EdD programs. WISR students and the communities with which they are involved, reflect great geographic, intellectual and cultural diversity. WISR's extraordinary students and faculty together have created a dynamic and inquiring learning community where "Multicultural is WISeR." Celebrating its 40th Anniversary in 2015, WISR ("Wiser") is known as a premiere academic institute for social change since its inception in 1975. WISR offers individualized Bachelor's, Master's, and Doctoral degree programs for working adults. BS and MS degrees in Community Leadership and Justice; MS in Education; MS in Psychology--specifically, a Master's program that leads to the State of California's Marriage and Family Therapy License and to the new Licensed Professional Clinical Counselor license; EdD in Higher Education and SocialChange—this interdisciplinary doctoral program provides advanced, personalized study for educators, psychologists, community leaders and professionals in related fields. Our tuition is very affordable for working adults with modest incomes and family commitments. This is a publication of WISR Press. WISR Press is one vehicle by which WISR makes the fruits of the learning and knowledge-building pursued by WISR learners—students, alumni and faculty—available to the larger public. WISR Press also entertains submissions for publication from others whose purposes, concerns and scholarly rigor resonate with WISR's mission. The WISR learning community embrace the belief that everyone, regardless of their previous academic training or current professional certification, has the capacity to be a builder of useful and meaningful knowledge. WISR seeks to promote and disseminate scholarship--especially scholarship concerned with educational innovation, community improvement, professional enhancement and constructive, progressive social change. WISR Press is one way of doing this. WISR 2930 Shattuck Ave., Suite 300, Berkeley, CA 510-655-2830 mail@wisr.edu www.wisr.edu
PhD is co-founder of WISR and its President. He earned his PhD in Higher Education at the University of California, Berkeley in 1972. He taught at UC Berkeley, the University of Cincinnati, and University Without Walls-Berkeley prior to WISR's creation in 1975.
ISBN: 9781942860013
ISBN-10: 9781942860013
Publisher: WISR Press
Publication Date: 07/09/2015 - 12:00am
On Sale: 07/09/2015 - 12:00am
Pages: 144
Language: English
Categories