How to Sit (Mindfulness Essentials #1)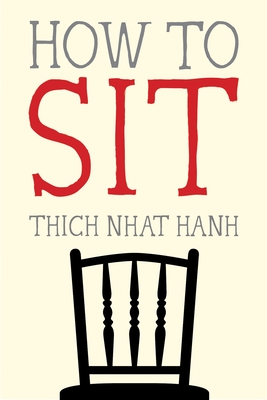 How to Sit (Mindfulness Essentials #1)
On Our Shelves Now
"Sit" = "Meditate." Clear, simple directions for anyone wanting to explore mindfulness meditation. 

The first book in The Mindfulness Essentials series, a back-to-basics collection from world-renowned Zen master Thich Nhat Hanh that introduces everyone to the essentials of mindfulness practice. 

In short, single-paragraph chapters, Nhat Hanh shares detailed instructions, guided breathing exercises and visualizations, as well as his own personal stories and insights. This pocket-sized book is perfect for those brand new to sitting meditation as well as for those looking to deepen their spiritual practice.

With sumi-ink drawings by Jason DeAntonis.
Thich Nhat Hanh is one of the most revered Zen teachers in the world today. His best-selling books include Be Free Where You Are and No Mud, No Lotus. He is the founder of the Plum Village Community of Engaged Buddhism in southwest France, the largest Buddhist monastery in Europe. Thich Nhat Hanh has been teaching the art of mindful living for more than 70 years. He lives in Hue, Vietnam.

Jason DeAntonis is an award-winning polymathic Bay Area artist, known for his fine carpentry and detailed woodwork. He has also worked in sculpture, costume design, glass blowing, painting, printmaking, and book illustration. His work has appeared in Parallax Press books Mindfulness in the Garden and the Mindfulness Essentials series, among others. He lives in Berkeley, California.