Swim Speed Secrets for Swimmers and Triathletes: Master the Freestyle Technique Used by the World's Fastest Swimmers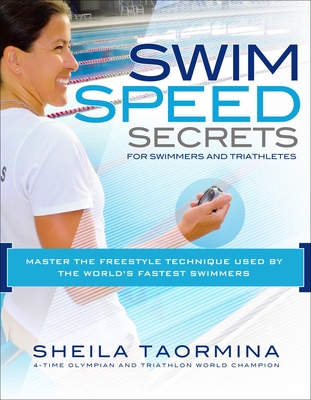 Swim Speed Secrets for Swimmers and Triathletes: Master the Freestyle Technique Used by the World's Fastest Swimmers
In "Swim Speed Secrets," 4-time Olympian, gold medalist, and triathlon world champion Sheila Taormina reveals the swim technique used by the world's fastest swimmers.
Over the course of 4 Olympic Games and throughout her career as a world champion triathlete, Taormina refined her exceptional technique as a student of the sport, studying the world's best swimmers using underwater photographs and video analysis. From Johnny Weissmuller to Michael Phelps, the world's fastest swimmers share two common elements: high stroke rate and a high-elbow underwater pull.
Many swimmers and triathletes neglect the pull, distracted by stroke count or perfecting less critical details like body position, streamlining, and roll. Swim Speed Secrets focuses on producing power the most crucial element of swimming to help triathletes and swimmers overhaul their swim stroke and find the speed that's been eluding them.
With a commonsense approach that comes from decades of practice and years of hands-on coaching experience, Taormina shows swimmers how to transition to faster swimming. "Swim Speed Secrets"includes: The best drills to cultivate a more sensitive feel for the waterDryland and strength building exercises to develop arm position and upper body musculatureCrisp photos of Olympic swimmers and variations in their high-elbow underwater pullClear descriptions of the key moments of the underwater pullTips that helped her perform at a world-class level for two decades
Sheila Taormina's "Swim Speed Secrets," brings the focus back where it belongs to a powerful underwater stroke. With this book, triathletes and swimmers can stop swimming for survival and break through to new levels of speed and confidence in the water.
Sheila Taormina is a 4-time Olympian, gold medalist, triathlon world champion, and swimming coach. She is one of a handful of athletes who have competed in four Olympic games and the only woman in the world to have competed in three distinctly different sports--swimming, triathlon, and modern pentathlon. At the unswimmerlike height of just 5' 2," Taormina refined her exceptional freestyle swim technique to win a gold medal in the 1996 Olympics and the 2004 ITU triathlon world championship. For 15 years, Taormina has coached elite and age-group swimmers and triathletes to develop the strong underwater pull that propelled her to such athletic success in her racing career. Taormina conducts dozens of swim clinics around the world each year.
ISBN: 9781934030882
ISBN-10: 9781934030882
Publisher: VeloPress
Publication Date: 05/01/2012 - 12:00am
On Sale: 05/01/2012 - 12:00am
Pages: 177
Language: English
Categories