Swim Workouts for Triathletes: Practical Workouts to Build Speed, Strength, and Endurance (Workouts in a Binder)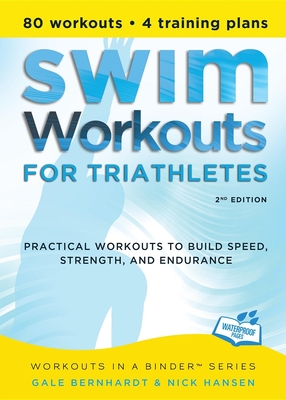 Swim Workouts for Triathletes: Practical Workouts to Build Speed, Strength, and Endurance (Workouts in a Binder)
It's no secret: most triathletes are weak swimmers. Improving your swim will make you a faster, more confident triathlete, and you'll enjoy your time in the water.
Swim Workouts for Triathletes, 2nd Ed. will help you develop real swimming speed. This waterproof book of 75 swim workouts provides the structure, variety, and drills triathletes need to become more efficient and faster swimmers. Each workout is designed around a specific goal--endurance, speed, form, muscular endurance, or anaerobic endurance--making it easy to prepare for events of different distances and improve all-around swimming skill.
Supplement your current training plan with these workouts or use one of the book's four swim training plans to prepare for triathlon's most popular swim distances. You'll improve your efficiency and feel for the water with illustrated technique drills. New 30-minute workouts help slower swimmers or those with limited pool time get up to speed.
Swim Workouts for Triathletes means no more swimming in circles. Take this waterproof book to the pool with you, and you'll be swimming real workouts that will make you a faster swimmer and a better triathlete.
Gale Bernhardt is one of the most accomplished coaches in the sport of triathlon. She is a USA Triathlon and USA Cycling elite-certified coach and serves as one of a few USA Triathlon World Cup coaches. She coached the U.S. Olympic triathlon team in 2004. Bernhardt is a contributor to Active.com and has authored Training Plans for Multisport Athletes, Training Plans for Cyclists, Bicycling for Women, and Triathlon Training Basics. Nick Hansen is a former U.S. National Team swimming coach, University of Wisconsin head coach, University of Arizona assistant coach, and a masters team swimming coach.
ISBN: 9781934030752
ISBN-10: 9781934030752
Publisher: VeloPress
Publication Date: 05/02/2011 - 12:00am
On Sale: 05/02/2011 - 12:00am
Pages: 120
Language: English
Categories