Survival Skills for Freelancers: Tried and Tested Tips to Help You Ace Self-Employment Without Burnout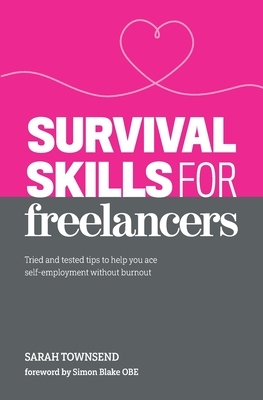 Survival Skills for Freelancers: Tried and Tested Tips to Help You Ace Self-Employment Without Burnout
Out of Stock In Store (Click to Order)
This item may not be available to order. Please call 617-566-6660 for more information.
THE #1 BESTSELLING GUIDE TO SELF-EMPLOYMENT, AS SEEN IN FORBES
"absolute gold" - "a must-have book" - "shines with empathy and warmth" - "a pocket business mentor" - "indispensable" - "an instant gem"
Being your own boss can be great - but it can be tough, too What do you charge? When do you say no? What about boundaries? And how do you tackle the isolation and self-doubt that come with working alone?
We all know the benefits of self-employment - work where you like, when you like, how you like... but how do you handle the messiness and the challenges of freelance life? This book is your secret weapon to help you ace self-employment.

Survival Skills for Freelancers shares an honest, warm and realistic view of self-employment, to help you rock the socks off freelance life.
With its personal anecdotes, practical advice and tales from the freelance community, it busts the myths about being your own boss, to help you succeed as a solo worker.

Discover how to survive and thrive as a freelancer - without neglecting your mental health and wellbeing.
WHAT'S INCLUDED...
Survival Skills for Freelancers covers issues such as:
the fundamentals of freelancing
three strategies to deal with isolation
adopting the right mindset for success
knowing your worth - and what to charge
trusting your instinct, and learning to say no
achieving balance and avoiding burnout
the importance of investing in your business
the qualities that help you survive and thrive as a freelancer
ABOUT THE AUTHOR
Sarah Townsend has spent the past 20 years as a freelance marketing copywriter. She built a successful freelance career with very little guidance - but you don't have to.
In Survival Skills for Freelancers she shares the secrets and surprises she's learnt from self-employment: both the things that worked AND the things that didn't.
She guides you through the highs and lows all freelancers face - from isolation, uncertainty and self-doubt to knowing what to charge, when to ask for help, and when to say no.
These tried and tested strategies are based on her own experience, backed up by research, resources and quotes from the freelance community.
REVIEWS
"I've been freelancing for 15+ years and I wish I'd read this book on day one. Every page is packed with practical advice and hard-won wisdom. Get it "
Tom Albrighton, author, The Freelance Introvert
"A warm, practical and empathetic guide to the challenges of being your own boss. I could have done with this before embarking on a decade as a self-employed reporter and presenter "
Ed Draper, Sky Sports broadcaster
"It's so nice to read a book written by a proper copywriter who knows how to get words from the page to the mind with the least resistance. It's just so goddamn intuitive to read."
Matt Phil Carver, copywriter
"A brilliantly relatable and comprehensive guide that holds your hand with compassion and humour through the rocky yet undeniably exciting world of self-employment."
Louise Goss, founder, The Homeworker
"Before you set up your website, think about your product and audience and offering, spend your first few pounds on this book. It'll make every subsequent pound and hour better spent."
Matthew Knight, founder, Leapers
ISBN: 9781916371569
ISBN-10: 9781916371569
Publisher: Sarah Townsend
Publication Date: 05/22/2020 - 12:00am
On Sale: 05/22/2020 - 12:00am
Pages: 212
Language: English
Categories