Europa28: Writing by Women on the Future of Europe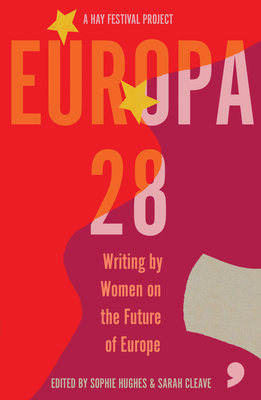 Europa28: Writing by Women on the Future of Europe
By Asja Bakic ,
Zsofia Ban ,
Annelies Beck ,
Silvia Bencivelli ,
Editor Sarah Cleave ,
Hilary Cottam ,
Lisa Dwan ,
Yvonne Hofstetter ,
Editor Sophie Hughes ,
Nora Ikstena ,
Maarja Kangro ,
Kapka Kassabova ,
Sofia Kouvelaki ,
Carine Krecke ,
Caroline Muscat ,
Nora Nadjarian ,
Ioana Nicolaie ,
Bronka Nowicka ,
Tereza Nvotova ,
Ana Pessoa ,
Edurne Portela ,
Julya Rabinowich ,
Karolina Ramqvist ,
Apolena Rychlikova ,
Renata Salecl ,
Leila Slimani ,
Janne Teller ,
Saara Turunen ,
Zydrune Vitaite ,
Gloria Wekker
Out of Stock In Store (Click to Order)
 'To be European,' writes Leïla Slimani, 'is to believe that we are, at once, diverse and united, that the Other is different but equal.' Despite these high ideals, however, there is a growing sense that Europe needs to be fixed, or at the least seriously rethought. The clamour of rising nationalism – alongside widespread feelings of disenfranchisement – needs to be addressed if the dreams of social cohesion, European integration, perhaps even democracy are to be preserved. This anthology brings together 28 acclaimed women writers, artists, scientists, and entrepreneurs from across the continent to offer new perspectives on the future of Europe, and how it might be rebuilt. Featuring essays, fictions, and short plays, Europa28 asks what it means to be European today and demonstrates – with clarity and often humour – how women really do see things differently.
Asja Bakic is a Bosnian poet, writer, and translator. Zsofia Ban (b. 1957) is a writer, literary historian, essayist, and art and literature critic. She lives and works in Budapest and is currently DAAD writer-in-residence in Berlin. Annelies Beck is a writer and journalist. She has lived in the Netherlands, Brazil, the UK, and Belgium. Silvia Bencivelli is a science journalist, writer, and radio/TV broadcaster. Sarah Cleave is an Editor at Comma Press and the coordinator of the Northern Fiction Alliance. Hilary Cottam is an internationally acclaimed social activist. Lisa Dwan is an Irish performer, director, and writer.  
ISBN: 9781912697380
ISBN-10: 9781912697380
Publisher: Comma Press
Publication Date: 06/01/2020 - 12:00am
On Sale: 06/01/2020 - 12:00am
Pages: 256
Language: English
Categories
Fiction / Anthologies (multiple authors)