The Feel-Good Family Food Plan: Everything you need to feed your family well, every day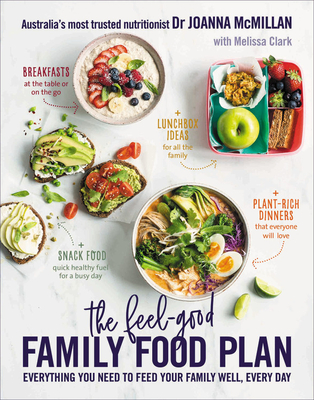 The Feel-Good Family Food Plan: Everything you need to feed your family well, every day
On Our Shelves Now
So many people are just plain confused over what exactly healthy eating is — should they be paleo or vegan? Are grains good or bad? Should they cut carbs? Is butter back on the menu? And how do I get my five-year-old to eat veggies? We're all time-poor and want our family to eat well because we recognise it's the cornerstone of good health. There's also compelling evidence for the power of sitting around a family table and eating together — even if just a couple of times a week — to model good eating habits for life for young children and teenagers. But what exactly does good family food look like?

The purpose of this book is to give you the confidence to know that you are feeding your family as best you can, the tools to help you deal with the many difficult food situations that can arise, the tricks to making mealtimes easier and within budget while minimising food waste, and the inspiration to make food a pleasurable and delicious part of your family life.

Providing practical, simple solutions, easy-to-follow advice and expert tips, The Feel-Good Family Food Plan is with you every step of the way as you get homemade, delicious meals on the table, even on the most hectic work/school days.
Dr Joanna McMillan is a PhD qualified Nutrition Scientist and Accredited Practising Dietitian. Born in Scotland, she is now one of Australia's favourite and most trusted health and well-being experts. Joanna is a regular on television, most recently hosting the ABC's series Gut Revolution and Beating Diabetes; she is also a regular commentator on Channel 9's Today Show.
Mel Clark makes really delicious food - for companies, for private clients, and for friends and family. A professionally trained caterer, Mel has worked with clients both in Australia and internationally, including Nestle and Vitamix.