Electronic Evidence and Electronic Signatures (Institute of Advanced Legal Studies)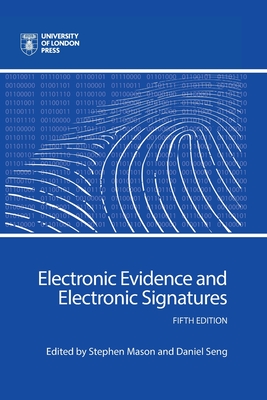 Electronic Evidence and Electronic Signatures (Institute of Advanced Legal Studies)
Two leading authorities address the technical and ethical issues of practicing law in the digital age. 
 
In this updated edition of a well-established practitioner text, Stephen Mason and Daniel Seng have brought together a team of experts in the field to provide an exhaustive treatment of electronic evidence and electronic signatures. This fifth edition continues to follow the tradition in English evidence textbooks by basing the text on the law of England and Wales, with appropriate citations of relevant case law and legislation from other jurisdictions.
Stephen Mason is a leading authority on electronic evidence and electronic signatures. He is the author of Electronic Signatures in Law, editor of International Electronic Evidence, and founder of the open-access journal Digital Evidence and Electronic Signatures Law Review. Mason is an IALS associate research fellow and visiting lecturer at the School of Law, University of Tartu, Estonia.

Daniel Seng is associate professor at National University of Singapore and director of the Centre for Technology, Robotics, AI and the Law. He is also a special consultant to the World Intellectual Property Organization and a non-residential fellow with the Centre for Legal Informatics at Stanford University. 
ISBN: 9781911507222
ISBN-10: 9781911507222
Publisher: University of London Press
Publication Date: 09/20/2022 - 12:00am
On Sale: 09/20/2022 - 12:00am
Pages: 422
Categories