Grilled Cheese: Traditional and inspired recipes for the ultimate toasted sandwich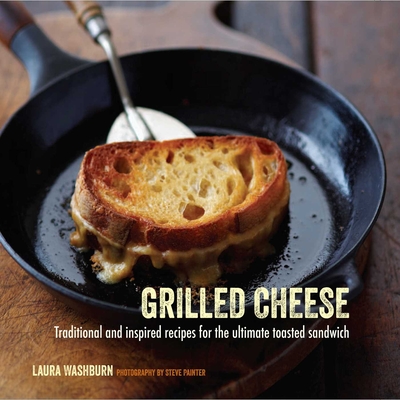 Crisply toasted bread, gooey melted cheese and flavorsome relishes and pickles, the humble hot cheese sandwich is given the ultimate makeover in this book.

If you're looking for tempting recipes that are guaranteed to make your toastie the one with the mostie, then look no further. Use this book to perfect the all-time favorite hot sandwich with the best ever recipe for Classic Grilled Cheese, as well as exciting variations. Just one buttery bite oozing with molten cheese will take you back to your childhood. Serve up hearty yet Simple options such as the Montgomery Cheddar with Red Onion Chutney, Gruyère with Leek, and Smoked Provolone with Black Olives. Get the best out of your grilled cheese with the finest International flavours the world has to offer. Try the classic Croque Monsieur or Manchego with Chorizo and Padron Peppers. Fancy your grilled cheese down and 'dirty'? Try Swiss Cheese with Chilli or Hot Dog with Sauerkraut and Mustard. Or bathe your grilled cheese in luxury with Gourmet recipes such as Tartiflette (reblochon and potato gratin with bacon) or Ricotta with Roasted Butternut Squash and Sage. Crunchy, golden, gooey and satisfying, Grilled Cheese will keep you warm all winter.
Laura Washburn Hutton was born in Los Angeles but studied at university in Paris. She went on to train at the prestigious Paris cooking school, École de Cuisine La Varenne, and work with Patricia Wells, best-selling author of 'A Food Lover's Guide to Paris'. She is now based in London, where she works as a cooking teacher and food writer. For Ryland Peters & Small, she has written 'Cooking with Apples & Pears', 'The French Country Table', 'Home-cooked Comforts', 'Tacos, Quesadillas & Burritos', 'Mac 'n' Cheese' and 'Grilled Cheese'.
ISBN: 9781849755559
ISBN-10: 9781849755559
Publisher: Ryland Peters & Small
Publication Date: 08/14/2014 - 12:00am
On Sale: 08/14/2014 - 12:00am
Pages: 64
Language: English
Categories