Renal Diet Cookbook: 300 Healthy Low Sodium, Potassium, and Phosphorus Tasty Recipes for Beginners to Control Kidney Disease (CKD) at Any S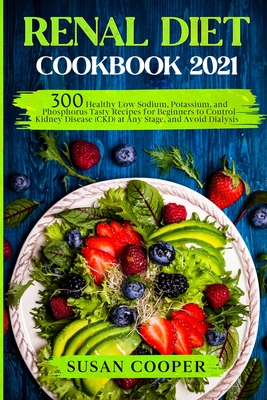 Renal Diet Cookbook: 300 Healthy Low Sodium, Potassium, and Phosphorus Tasty Recipes for Beginners to Control Kidney Disease (CKD) at Any S
Out of Stock In Store (Click to Order)
This item may not be available to order. Please call 617-566-6660 for more information.
Renal Diet Cookbook
Discover how you can avoid dialysis and retake control of your life from kidney disease with this ultimate cookbook.
Are you looking for the best way to avoid dialysis and slow the progression of kidney disease? Are you interested in learning about the renal diet, but you're not sure where to begin? Do you want to discover a ton of delicious recipes which even a complete beginner can prepare with ease? Then it's time to try this book
The renal diet is an incredible eating plan which is sweeping across the globe and helping millions of sufferers of kidney disease. Founded on the latest nutrition science and proven recipes for reducing your sodium, potassium, and phosphorous intake, this amazing diet holds the secret to retaking control of your life.
Now, this ultimate cookbook reveals a whopping 300 healthy recipes designed to slow the progression of kidney disease and take the strain off your body. Designed to blend healthy recipes with delicious and easy-to-find ingredients, these wonderful meals are simple, fun to prepare, and great for people of all ages and backgrounds.
If you suffer from chronic kidney disease, or if you're worried about developing this condition in the future, then the Renal Die Cookbook 2021 contains all the up-to-date advice and recipes you could ever need.
Inside this ultimate cookbook, you'll discover:
- Breaking Down The Incredible Benefits of The Renal Diet
- 15 Great-Tasting Kitchen Staples To Add Flavor To Your Meals
- A Ton of Simple Yet Delectable Breakfast Recipes To Kickstart Your Day
- Vegetarian and Vegan Dishes To Suit Every Palette
- Plenty of Ingenious Meat and Poultry Recipes, Seafood, and More
- Fun Snacks and Healthy Desserts
- Supercharged Juices To Overhaul Your Wellbeing
- Creative Recipes For Kids
- And Much More
So if you're searching for a natural solution to help you eat better, take the strain off your kidneys, and enjoy the benefits of a stronger, healthier body, then this book is for you. Even if you're new to the idea of dieting, or if you don't have much experience with cooking, these recipes all come with easy-to-follow instructions and common ingredients which you can find at any store.
Don't let your kidneys suffer for any longer. Make the most of your body and overhaul your health with the power of the renal diet today.
Scroll up and buy now to begin helping your kidneys today
ISBN: 9781838236755
ISBN-10: 9781838236755
Publisher: Borghe's Ltd
Publication Date: 12/22/2020 - 12:00am
On Sale: 12/22/2020 - 12:00am
Pages: 412
Language: English
Categories
Health & Healing - Diabetic & Sugar Free