Easy Air Fryer Lid Cookbook: 300 Effortless, Quick and Easy Crispy Recipes for Beginners and Advanced to Simplify Your Life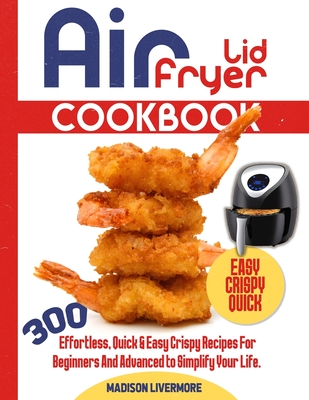 Easy Air Fryer Lid Cookbook: 300 Effortless, Quick and Easy Crispy Recipes for Beginners and Advanced to Simplify Your Life
Unavailable
★55% OFF★ for bookstores Discounted Retail Price NOW at $25 instead of 36.98
The air fryer allows you to cook your food without adding oil or fat.All the recipes in this book will help you prepare some gourmet meals that everyone will enjoy
Your Customers Will Never Stop to Use this Awesome book
The air fryer allows you to cook your food without adding oil or fat.
All the recipes in this book will help you prepare some gourmet meals that everyone will enjoy
All the recipes in this book are:
Simple
Organized by their time of preparation
Budget-friendly
Have been collected so that recipes that take longer are at the beginning and recipes that take less time are at the end.
This book covers the following topics:
Breakfast
Lunch
Snacks and side dishes
Eggs and dairy
Poultry
Seafood
Fish
Vegetables
Sweet & desserts
Soups
And much more
The air fryer is a relatively new appliance that is growing in popularity.
It is a relatively inexpensive kitchen appliance that requires you to place food on a basket above the machine and be exposed to hot air.
The air fryer does not have an entry point for food.
This means that there is no need for food to enter the air fryer in a specific way and there are no limits to the size or shape of the food cooked in an air fryer.
This is one of the main reasons why air fryers are preferred over conventional ovens and microwaves.
It allows you to cook meals from a wide variety of foods, from soups and stews to cakes and cookies.
This book will allow you to enjoy the meals you love.
Easily, effortless, and fat-free.
Buy it NOW and let your customers get addicted to this amazing book
ISBN: 9781801150378
ISBN-10: 9781801150378
Publisher: Charlie Creative Lab
Publication Date: 12/03/2020 - 12:00am
On Sale: 12/03/2020 - 12:00am
Pages: 178
Language: English
Categories