Gentle + Classical Nature: Term 1: Inland Waterways and Forests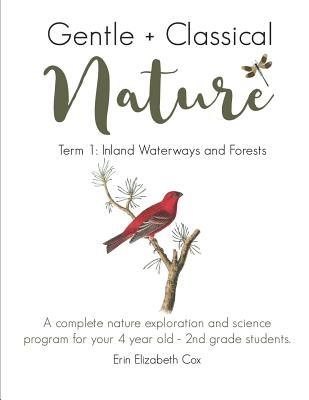 Gentle + Classical Nature: Term 1: Inland Waterways and Forests
Unavailable
PRIOR TO PURCHASING, PLEASE GO TO WWW.GENTLECLASSICAL.COM TO LEARN ABOUT THIS PROGRAM AND DOWNLOAD THIS EXACT GUIDE FREE IN PDF FORMAT.
Do you love the ideas included in modern classical education, the Charlotte Mason philosophy, unit studies, and Montessori and don't want to choose between them all?
You don't have to
This 12 Unit nature exploration science curriculum is fully grounded in Charlotte Mason's own direct plans for young learners while expanding to include classical education methods like memorization, wrapped in a unit-study format that includes many aspect of a Montessori education.
This detailed preschool and elementary science curriculum will have you walking in confidence with simple encouragement and thorough instruction. You'll be equipped with knowledge to guide your children on nature explorations, lead them in various activities and field trips, teach them beginner nature-related French and/or Spanish, help them to memorize poetry, and point back to our Creator every step of the way.
You'll be equipped with a helpful menu of unit-specific living books that are widely available. Handy checklists, thorough suggestions, and mountains of "you can do this " are included as well.
You CAN enjoy science and nature with your preschool and elementary students without feeling overwhelmed, collecting mountains of supplies, or not being able to look back and see all you've learned. You and your students will leave this program with rich memories and new, gently-formed habits that will continue to shape their future educations and lives.
IMPORTANT DETAILS:
Visit www.GentleClassical.com for more details, to receive a FREE PDF version of this Teacher's Guide, and read reviews of other Gentle + Classical Products
This product is a TEACHER'S GUIDE and does not include any printable materials, Memory Statement Cards or flashcards that may appear in review images. The author has no control over the images reviewers share.
The images that include flashcards and memory statement boards are from the related, printable Gentle + Classical Nature Term 1 Bundle available for separate purchase at www.GentleClassical.com
This Curriculum Guide CAN BE USED without the aforementioned Bundle.
Terms 2 and 3 (an additional 12 units each) of Gentle + Classical Nature will be released in 2020. Subscribe at www.GentleClassical.com to stay up to date
ISBN: 9781798781579
ISBN-10: 9781798781579
Publisher: Independently Published
Publication Date: 03/26/2019 - 12:00am
On Sale: 03/26/2019 - 12:00am
Pages: 124
Language: English
Categories