Be More Wrong: How Failure Makes You an Outstanding Leader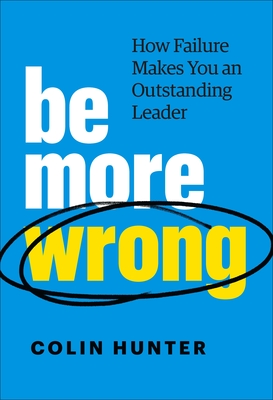 Be More Wrong: How Failure Makes You an Outstanding Leader
The surest path to success is to fail.

What if you could build a workplace culture that was less like a classroom, and more like a playground: a place filled with opportunities to take risks and test boundaries, with soft ground on which to fall? A place where you and your team are free to make mistakes, and get things wrong—a place where it's okay to fail?

In Be More Wrong, noted leadership coach Colin Hunter shows you why, in the age of disruption, it's never been more important to fail early, fail often, and fail forward. Through his Pi2 Leadership Impact Model, he shows you how to create systems and build habits that will help you lead with greater confidence, conviction, and connection. You'll learn how to recognize different leadership styles, and what transforms a good leader into an outstanding one.

As you leave your ego and expertise at the door and embark on a journey to observe human behaviour, ideate new ideas, and experiment, you'll begin to build a playground for yourself and your team. However unlikely a leader you feel yourself to be, you can get it right—by being more wrong.
Colin Hunter is the owner and CEO of Potential Squared International. He has specialized in commercial behavioral change for over 20 years. Colin facilitates and coaches individuals and teams in the areas of leadership presence, personal brand, change leadership, innovation and change, strategic dialogue, creating board-level influence, and earning a seat at the executive table. He prides himself on his "refreshingly direct" style as he works with leaders and teams to develop an edge through clear mindsets and leadership points of view, and to create ripples of change throughout their organizations.