Some Perfect Tomorrow: True Stories of Hope in Loss, Love in Grief, and Life in Death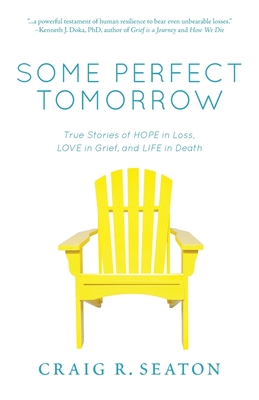 Some Perfect Tomorrow: True Stories of Hope in Loss, Love in Grief, and Life in Death
Out of Stock In Store (Available to Order)
"The yellow chair changed my life."
Do you feel like you will never stop missing the one you lost?
In Some Perfect Tomorrow, you get to know people just like you. Real people. Missing ones they lost. You find yourself sharing your grief with newfound friends. Friends who get what you're going through. Just knowing this can help you make it through your day...or your moment.
These are up-close, true stories. Told first-hand by a veteran caregiver-with decades in the funeral profession. Craig R. Seaton has personally helped thousands through loss and grief. Cremations and burials. Memorial services and last goodbyes. The encounters in this book are stirring. They will help you with loss-whether recent or long ago.
Grief is timeless because love is timeless.
People. Experiencing loss, looking for hope. Loving through grief, and somehow finding life in death. Each short chapter ends with Sparks of Life-useful, practical reflections to help you.
Could a yellow chair change your life, too?
ISBN: 9781736039205
ISBN-10: 9781736039205
Publisher: Yellorondack Publishing
Publication Date: 06/01/2021 - 12:00am
On Sale: 06/01/2021 - 12:00am
Pages: 232
Language: English
Categories