ABCs of Kindness (Highlights Books of Kindness)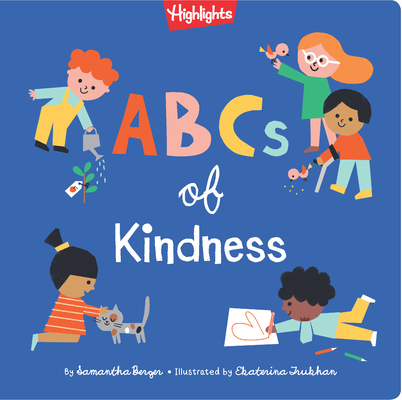 Early Reader
ABCs of Kindness (Highlights Books of Kindness)
On Our Shelves Now
Starting with A and ending with Z, this beautifully illustrated book will show young readers the many ways they can make the world a kinder place

A diverse cast of children shows everyday acts of kindness and generosity through thoughtful and vibrant illustrations. Whether it be donating blankets to the animal shelter, helping with chores, or standing up for what's right, this is the perfect book to spark conversations at home or in the classroom about the concepts of empathy and compassion. Featuring durable cardstock pages and approachable language, this book will encourage children to be their best selves wherever they go.
If Samantha could be a superhero, she would be the Kindness Kid. She would make it her mission to spread kindness to every person, animal, and especially to the planet. She tries to pour kindness into the world by creating books, writing for Sesame Street in Communities, and rescuing dogs. Please visit her at samanthaberger.com

Ekaterina Trukhan is a Russian illustrator. She graduated from Camberwell College of Arts and has since illustrated children's books. She draws her inspiration from everyday life, mid-century illustration, and the books she had when she was a child. Visit her on the Web at ekaterinatrukhan.com and goodillustration.com
Learning to read is a Big Deal - here is a selection of engaging titles that we'd recommend for those just starting to read on their own.