Star Trek: Deep Space Nine - Too Long A Sacrifice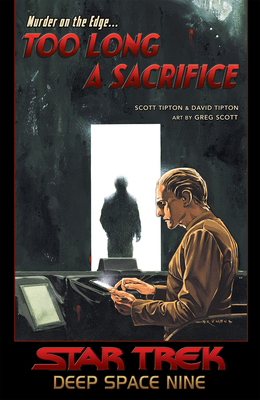 Star Trek: Deep Space Nine - Too Long A Sacrifice
Pre-Order (Not Yet Available)
Return to DS9 as death casts its shadow on the space station in this murder-mystery graphic novel.

Constable Odo searches for truth amid a web of treachery and lies but everyone on the Promanade has a motive for this murder, be it vengeance, justice... or old-fashioned greed. With the murderer on the loose, the inhabitants of Deep Space 9 start to divide into factions, made even worse when the Ferengi government gets involved. Further complicating the issue, conflict between Constable Odo and the Federation's hand-picked criminal investigator threatens to derail the investigation itself!

Get buried in this space noir from fan-favorite Star Trek writers Scott and David Tipton with artist Greg Scott.
Scott Tipton is a New York Times Best-Selling author and comic-book historian with a wide variety of both graphic novel and prose works to his credit. Scott's most recent prose work, The Star Trek Vault: 40 Years From the Archives for Abrams Publishing, charts the remarkable history of the world's most popular science-fiction series. Scott is also the author of Comic Books 101, a humorous stroll through the history and high points of the American art form known as comic books, published by IMPACT BOOKS.