Star Trek: The Next Generation: Terra Incognita (Star Trek The Next Generation)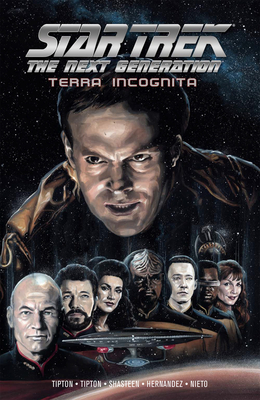 Star Trek: The Next Generation: Terra Incognita (Star Trek The Next Generation)
Unavailable
Following the blockbuster MIRROR BROKEN and THROUGH THE MIRROR storylines comes a brand-new Next Generation series, featuring untold tales of the U.S.S. Enterprise-D!

Following their clash with their villainous doubles from the Mirror Universe, the Enterprise crew returns to business as usual, little realizing the serpent in their midst--one of their own has been replaced! Six stories focusing on fan-favorite crew members of the Enterprise-D--including Deanna Troi, Wesley Crusher, and Selar--each connected by the machinations of this sinister doppelganger. What does Mirror Barclay want, and what's to become of his Prime-universe counterpart?!

A pulse pounding mosaic of stories from Scott and David Tipton (Star Trek: The Next Generation - Mirror Broken) and artists Tony Shasteen (Star Trek: Boldly Go), Angel Hernandez (Star Trek/Green Lantern), and Carloes Nieto (Star Trek: The Next Generation - Through the Mirror).

This volume collects the six-issue series, continuing the saga of one of Star Trek's most popular iterations. These standalone stories mirror the sci-fi mainstay's established history of "done-in-one" episodes, which keep the series accessible to new fans and emphasize original and fascinating ideas.



(TM), ®, & © 2018 CBS Studios, Inc. STAR TREK and related marks and logos are trademarks of CBS Studios, Inc. All Rights Reserved.
Scott Tipton is a New York Times Best-Selling author and comic-book historian with a wide variety of both graphic novel and prose works to his credit. Scott's most recent prose work, The Star Trek Vault: 40 Years From the Archives for Abrams Publishing, charts the remarkable history of the world's most popular science-fiction series. Scott is also the author of Comic Books 101, a humorous stroll through the history and high points of the American art form known as comic books, published by IMPACT BOOKS.