Star Trek: The Next Generation - The Missions Continue (Star Trek The Next Generation)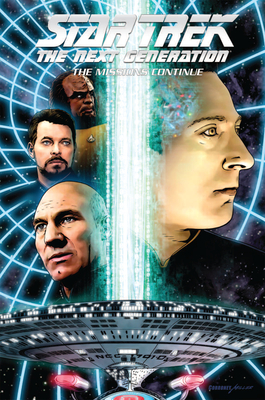 Star Trek: The Next Generation - The Missions Continue (Star Trek The Next Generation)
Out of Stock In Store (Click to Order)
Follow the intergalactic adventures of Captain Jean-Luc Picard and the crew of the U.S.S. Enterprise (NCC-1701D) as they explore new worlds.

Collecting five complete graphic novels into one oversized hardcover edition.

In The Space Between, travel to Tigan-7, Kandom 9, uncharted space, and more--each leading the dedicated crew of the Enterprise into unexpected adventures. By David Tischman and Casey Maloney.

In Intelligence Gathering, what seems to be a series of unrelated missions is soon revealed to be part of a larger conspiracy involving a threat unlike any that Picard has ever faced. Can the Enterprise crew piece together the puzzle before it's too late? By Scott Tipton, David Tipton, and David Messina.

In Last Generation, a Myriad Universe title, Starfleet is no more! The Federation lies in ruin and the Klingons have conquered Earth. But a resistance, led by Jean-Luc Picard, seeks to free humanity from Klingon rule. Now, finally, they may have the means to do it: an android named Data! By Andrew Steven Harris and Gordon Purcell.

In Ghosts, Captain Picard and the crew of the Enterprise respond to a distress call and find a terribly wounded scientist aboard a marooned ship. While evaluating the planet below (and its two warring nations) for possible Federation membership, Picard discovers to his horror that the survivor of the disaster is foreseeing his death. By Zander Cannon and Javier Aranda.

In Hive, it's the distant future and the entire galaxy has been completely assimilated by Borg and its king... Locutus! The only hope lies in the past, in the hands of Captain Jean-Luc Picard and the crew of the starship Enterprise! By Brannon Braga, Terry Matalas, Travis Fickett, and Joe Corroney.
Scott Tipton is a New York Times Best-Selling author and comic-book historian with a wide variety of both graphic novel and prose works to his credit. Scott's most recent prose work, The Star Trek Vault: 40 Years From the Archives for Abrams Publishing, charts the remarkable history of the world's most popular science-fiction series. Scott is also the author of Comic Books 101, a humorous stroll through the history and high points of the American art form known as comic books, published by IMPACT BOOKS.