Star Trek: The Next Generation: Through The Mirror (Star Trek The Next Generation)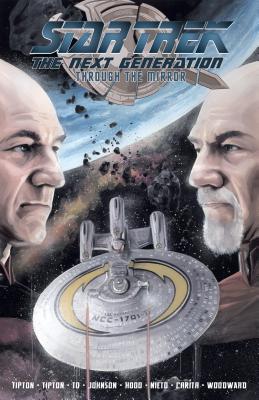 Star Trek: The Next Generation: Through The Mirror (Star Trek The Next Generation)
Backordered
The Mirror Universe Next Generation crew is looking for new worlds to conquer, and they're crossing over to the Prime Star Trek Universe to find them!

When the Enterprise-D discovers a burned-out, pillaged Andorian vessel, the search for the culprits behind it leads to some startlingly familiar faces. But, how did the Mirror Universe crew find their way to ours, and what does Emperor Spock have to do with it? Plus, it's interstellar espionage aboard the Enterprise-D when the Mirror Universe crew infiltrates Captain Picard's ship!

By writers Scott Tipton and David Tipton with artists Marcus To, Chris Johnson, Josh Hood, Carlos Nieto, Debora Carita, and J.K. Woodward.
Scott Tipton is a New York Times Best-Selling author and comic-book historian with a wide variety of both graphic novel and prose works to his credit. Scott's most recent prose work, The Star Trek Vault: 40 Years From the Archives for Abrams Publishing, charts the remarkable history of the world's most popular science-fiction series. Scott is also the author of Comic Books 101, a humorous stroll through the history and high points of the American art form known as comic books, published by IMPACT BOOKS.