Star Trek: The Next Generation - Mirror Broken (Star Trek The Next Generation)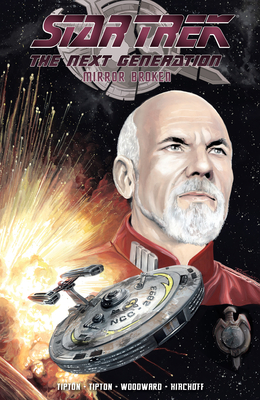 Star Trek: The Next Generation - Mirror Broken (Star Trek The Next Generation)
Unavailable
For the first time in the history of Star Trek: The Next Generation, go into the alternate "Mirror, Mirror" universe to meet the cold-blooded crew of the I.S.S. Enterprise, and their captain, the ruthless Jean-Luc Picard!

Space... The final frontier. These are the voyages of the I.S.S. Enterprise. Its continuing mission: to conquer strange new worlds, to enslave new life and new civilizations... To boldly go where no one has gone before!

In the other-dimensional Mirror Universe, there is no United Federation of Planets, only a cruel Terran Empire, where advancement comes through assassination, brutality is commonplace and kindness is a weakness. The Terran Empire is on its last legs in its war with the Klingon-Cardassian Alliance, but Captain Jean-Luc Picard has learned of a final chance for victory: a revolutionary new Galaxy-class starship that could turn the tide of the war. The ship is called Enterprise-and Picard intends to take it. Collects the 2017 Free Comic Day issue and the five-issue mini-series.
Scott Tipton is a New York Times Best-Selling author and comic-book historian with a wide variety of both graphic novel and prose works to his credit. Scott's most recent prose work, The Star Trek Vault: 40 Years From the Archives for Abrams Publishing, charts the remarkable history of the world's most popular science-fiction series. Scott is also the author of Comic Books 101, a humorous stroll through the history and high points of the American art form known as comic books, published by IMPACT BOOKS.

J.K. Woodward started his professional comics career in 2003 when he collaborated with A. David Lewis on the indie comic Mortal Coils and Michael Colbert on the Digital Webbing Presents series Crazy Mary. When Peter David was re-launching his creator-owned series Fallen Angel at IDW, he was a natural choice for Peter's dark world of magic, violence and redemption. He then went on to do coverson X-men Origins: The Beast. He also worked on the Star Trek/Doctor Who crossover, Assimilation2 and Harlan Ellison's City on the Edge of Forever.