Without Compromise: The Brave Journalism that First Exposed Donald Trump, Rudy Giuliani, and the American Epidemic of Corruption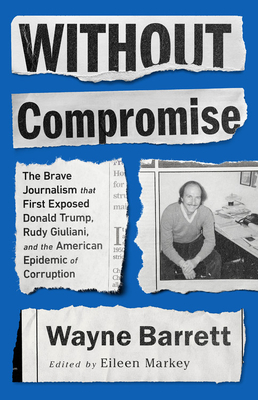 Without Compromise: The Brave Journalism that First Exposed Donald Trump, Rudy Giuliani, and the American Epidemic of Corruption
Out of Stock In Store (Click to Order)
A collection of groundbreaking investigations by Wayne Barrett, the intrepid, muckraking Village Voice journalist who exposed corruption in New York City and beyond.
With piercing moral clarity and exacting rigor, Wayne Barrett tracked political corruption in the pages of the Village Voice fact by fact, document by document for 40 years. The first to report on the scams and crooked deals that fueled the rise of Donald Trump in 1979, Barrett went on to expose the shady dealings of small-time slum lords and powerful New York City politicians alike, from Ed Koch to Rudy Giuliani to Michael Bloomberg.
Without Compromise is the first anthology of Barrett's investigative work, accompanied by essays from colleagues and those he trained. In an age of lies, fog, and propaganda, when the profession of journalism is degraded by the White House and the industry is under financial threat, Barrett reminds us that facts, when clearly accumulated, are our best defense of democracy.
Featuring essays by:
Joe Conason
Kim Phillips-Fein
Errol Louis
Gerson Borrero
Tom Robbins
Tracie McMillan
Peter Noel
Adam Fifield
Jarrett Murphy
Andrea Bernstein
Jennifer Gonnerman
Mac Barrett
Wayne Barrett (1945-2017) was a celebrated investigative journalist. He spent much of his 40-year reporting career at the Village Voice, where he became, in the words of the Washington Post, "dreaded if not loathed" by public officials for his relentless exposure of such major political figures as Ed Koch, Rudy Giuliani, and Donald Trump. After his departure from the Village Voice, he became a fellow at Type Media Center, then known as The Nation Institute. He is the author of four books, including Trump: The Greatest Show on Earth (1992) and Rudy: An Investigative Biography of Rudolph Giuliani (2000).


Eileen Markey is an assistant professor of journalism at Lehman College of the City University of New York and a veteran NYC policy reporter who learned the power of facts and the joy of digging for them from Village Voice muckraker Wayne Barrett. She has written for, among others, The Daily Beast, The New Republic, The New York Times, City Limits, The Daily News, New York Magazine, WNYC New York Public Radio, The Wall Street Journal and The Village Voice. She's lectured widely on the role of religion in radical social movements. Markey is increasingly interested in archives and the role of public memory in shaping allegiances.