El cerdito de Navidad / The Christmas Pig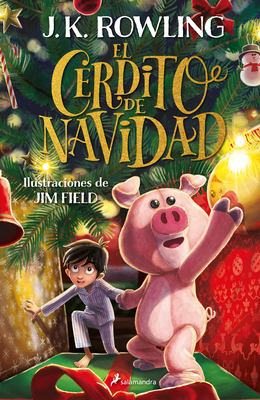 El cerdito de Navidad / The Christmas Pig
Pre-Order (Not Yet Published)
EL CERDITO DE NAVIDAD ES UNA AVENTURA CONMOVEDORA Y APASIONANTE SOBRE EL AMOR DE UN NIÑO POR SU JUGUETE FAVORITO Y DE LO QUE ES CAPAZ DE HACER PARA RECUPERARLO.

DITO es el juguete preferido de Jack. Siempre ha estado a su lado, en los buenos y malos momentos.

Hasta que el día de Nochebuena sucede algo terrible: Dito se pierde. Pero es una noche especial, una noche para los milagros y los casos perdidos, una noche en la que los objetos, incluidos los juguetes, pueden cobrar vida. Y el juguete que le han regalado a Jack, el nuevo cerdito de Navidad (el frustrante sustituto de Dito), tramará un plan muy arriesgado.

Juntos se embarcarán en un viaje mágico para intentar recuperar y salvar al que hasta ahora ha sido el mejor amigo de Jack.

ENGLISH DESCRIPTION

A heartwarming, page-turning adventure about one child's love for his most treasured thing, and how far he will go to find it. A tale for the whole family to fall in love with, from one of the world's greatest storytellers.

One boy and his toy are about to change everything...

Jack loves his childhood toy, Dur Pig. DP has always been there for him, through good and bad. Until one Christmas Eve something terrible happens -- DP is lost. But Christmas Eve is a night for miracles and lost causes, a night when all things can come to life... even toys. And Jack's newest toy -- the Christmas Pig (DP's replacement) -- has a daring plan: Together they'll embark on a magical journey to seek something lost, and to save the best friend Jack has ever known...
J.K. Rowling es autora de los siete libros de la famosa saga de Harry Potter. Amada por lectores de todo el mundo, la serie ha vendido más de 500 millones de ejemplares, se ha traducido a ochenta idiomas y ha inspirado ocho películas de enorme éxito de taquilla.

Ha escrito asimismo tres volúmenes complementarios con fines benéficos: Quidditch a través de los tiempos, Animales fantásticos y dónde encontrarlos (en beneficio de Comic Relief y Lumos), y Los cuentos de Beedle el Bardo (en beneficio de Lumos), así como el guión inspirado en Animales fantásticos y dónde encontrarlos, la primera de una serie de cinco películas que escribirá la autora. También colaboró en una obra, Harry Potter y el legado maldito, Partes Uno y Dos, que se estrenó en el West End de Londres en el verano de 2016.

En 2012 creó la plataforma digital Pottermore, donde sus fans pueden disfrutar de noticias, reportajes y artículos, así como de contenido original escrito por J.K. Rowling. Asimismo, ha escrito la novela para adultos Una vacante imprevista, y, con el seudónimo Robert Galbraith, la serie de novelas policíacas protagonizadas por Cormoran Strike.

Ha sido galardonada con numerosos premios, entre ellos la Orden del Imperio Británico por su contribución a la literatura infantil y la Orden de los Compañeros de Honor, la Orden de la Legión de Honor de Francia y el Premio Hans Christian Andersen.