Flush: La odisea de la playa / Flush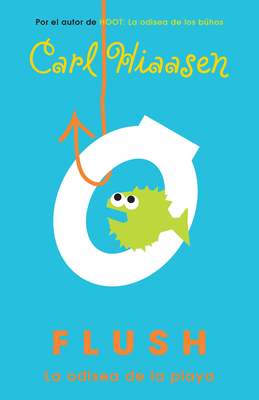 Flush: La odisea de la playa / Flush
Pre-Order (Not Yet Published)
Una divertida aventura en la que encontraremos un barco-casino deshonesto, peces flotantes, playas tóxicas y un adolescente decidido a hacer justicia. Esta es la Florida de Carl Hiaasen, ¡donde las criaturas son salvajes y la gente todavía más!
 
Te das cuenta de que va a ser un verano difícil cuando pasas el Día del Padre visitando a tu papá en la cárcel. El padre de Noah está seguro de que el dueño del barco-casino Coral Queen está tirando desperdicios en las aguas del puerto, lo que ha hecho que darse un chapuzón en la playa local sea igual que nadar en un inodoro. Sin embargo, no puede comprobarlo, por lo que decide que hundir el barco será una declaración efectiva. Sí, claro. En pocos días sacaron el barco del agua, lo vaciaron y volvió a funcionar sin problemas, pero el padre de Noah sigue atrapado en el calabozo.
 
Ahora Noah está decidido a triunfar donde su padre falló. Demostrará, de alguna manera, que el Coral Queen está vaciando su tanque de desperdicios ilegalmente. Es posible que sus aliados no aporten mucho: su hermana Abbey, que ha mordido desde la infancia y no se ha podido corregir; el Piojo Peeking, un borrachín codicioso con poca higiene; Shelly, una cantinera despechada; y un pirata misterioso… Pero Noah tiene un plan para sacar a la luz al villano. Un plan que debería hundir el pequeño casino deshonesto de una vez y por todas.

ENGLISH DESCRIPTION

A hilarious, high-stakes adventure involving crooked casino boats, floating fish, toxic beaches, and one kid determined to get justice. This is Carl Hiaasen's Florida—where the creatures are wild and the people are wilder!

You know it's going to be a rough summer when you spend Father's Day visiting your dad in the local lockup.Noah's dad is sure that the owner of the Coral Queen casino boat is flushing raw sewage into the harbor–which has made taking a dip at the local beach like swimming in a toilet. He can't prove it though, and so he decides that sinking the boat will make an effective statement. Right. The boat is pumped out and back in business within days and Noah's dad is stuck in the clink.

Now Noah is determined to succeed where his dad failed. He will prove that the Coral Queen is dumping illegally . . . somehow. His allies may not add up to much–his sister Abbey, an unreformed childhood biter; Lice Peeking, a greedy sot with poor hygiene; Shelly, a bartender and a woman scorned; and a mysterious pirate–but Noah's got a plan to flush this crook out into the open. A plan that should sink the crooked little casino, once and for all.
CARL HIAASEN was born and raised in Florida. He writes a column for the Miami Heraldand is the author of many bestselling novels including Bad Monkey, Razor Girl,and Squeeze Me.His books for younger readers include the Newbery Honor winner Hoot,as well asFlush, Scat, Squirm, andChomp. Skink—No Surrender was Hiaasen's first book for teens and features one of his most iconic characters, the reclusive ex-governor of Florida now knownas Skink.You can read more about Hiaasen's work at carlhiaasen.com.