The Third Book of the Dun Cow: Peace at the Last (Books of the Dun Cow #3)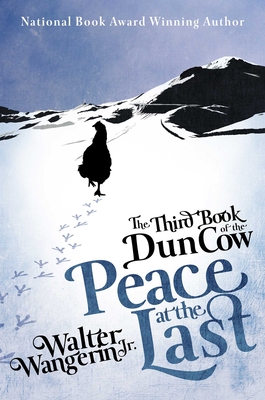 The Third Book of the Dun Cow: Peace at the Last (Books of the Dun Cow #3)
Out of Stock In Store (Available to Order)
The long awaited conclusion to the National Book Award-winning The Book of The Dun Cow Trilogy, from Walter Wangerin, Jr.

Praise for The Book of The Dun Cow
"Belongs on the shelf with Animal Farm, Watership Down and The Lord of the Rings. It is, like them, an absorbing, fanciful parade of the war between good and evil." -Los Angeles Times

Praise for The Second Book of The Dun Cow: Lamentations
" A] profoundly imagined and beautifully stylized fable of the immemorial war between good and evil." -The New York Times

Pertelote, widow of Chauntecleer the Golden Rooster, takes up his mantle as leader of the Animals as they seek safety from the great evil of the Wyrm and his children. Two other groups of Creatures are making their own journeys through the perilous land: Eurus the merciless yellow-eyed Wolf and his pack, and the sociable pair, Wachanga the Cream-Colored Wolf and her friend Kangi Sapa, the Raven. When Pertelote meets Wachanga and Kangi, she finds much-needed allies in her travels. Allies that become all the more valuable after cruel Eurus begins following the weary Animals with a murderous intent.

When the Creatures converge on a hidden crater high in the mountains, they make a monumental discovery that may finally mean an end to their tribulations.

The epic journey begun in The Book of the Dun Cow reaches its powerful conclusion in The Third Book of the Dun Cow: Peace at the Last, proving the sacrifices of Chauntecleer and the Animals were not in vain.
ISBN: 9781626811638
ISBN-10: 9781626811638
Publisher: Diversion Books
Publication Date: 11/26/2013 - 12:00am
On Sale: 11/26/2013 - 12:00am
Pages: 146
Language: English
Categories