Dry Creek: Archaeology and Paleoecology of a Late Pleistocene Alaskan Hunting Camp (Peopling of the Americas Publications)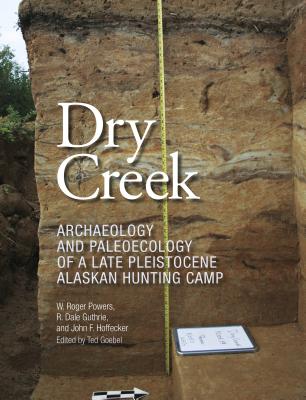 Dry Creek: Archaeology and Paleoecology of a Late Pleistocene Alaskan Hunting Camp (Peopling of the Americas Publications)
By W. Roger Powers ,
R. Dale Guthrie ,
John F. Hoffecker ,
Editor Ted Goebel ,
Contributions by Kelly E. Graf ,
Lyndsay M. DiPietro ,
Kathryn Krasinski ,
Brendan J. Culleton ,
Douglas Kennett ,
Angela K. Gore ,
Heather L. Smith
Unavailable
With cultural remains dated unequivocally to 13,000 calendar years ago, Dry Creek assumed major importance upon its excavation and study by W. Roger Powers. The site was the first to conclusively demonstrate a human presence that could be dated to the same time as the Bering Land Bridge. As Powers and his team studied the site, their work verified initial expectations. Unfortunately, the research was never fully published.

Dry Creek: The Archaeology and Paleoecology of a Late Pleistocene Alaskan Hunting Camp is ready to take its rightful place in the ongoing research into the peopling of the Americas. Containing the original research, this book also updates and reconsiders Dry Creek in light of more recent discoveries and analysis.
W. ROGER POWERS (1942–2003) was professor of anthropology at the University of Alaska, Fairbanks. R. DALE GUTHRIE is professor emeritus at the Institute of Arctic Biology and the University of Alaska, Fairbanks. JOHN F. HOFFECKER is a research fellow of the Institute of Arctic and Alpine Research at the University of Colorado, Boulder. TED GOEBEL, the volume editor, is associate director of the Center for the Study of the First Americans at Texas A&M University.
ISBN: 9781623495381
ISBN-10: 9781623495381
Publisher: Texas A&M University Press
Publication Date: 04/14/2017 - 12:00am
On Sale: 04/14/2017 - 12:00am
Pages: 344
Language: English
Categories
Social Science / Anthropology / Physical