Thursdays with the Crown (Tuesdays at the Castle #3)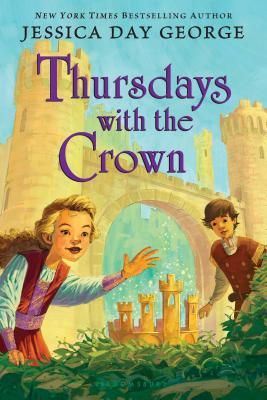 Thursdays with the Crown (Tuesdays at the Castle #3)
Castle Glower has been acting weird, so it's no surprise when two towers transport Celie and her siblings to an unknown land. When they realize that no one from home is coming to get them, the kids--along with Celie's pet griffin Rufus--set out through the forest to figure out where they are and what's happened to their beloved Castle. Instead, they discover two wizards and an entire lost people, the oldest inhabitants of Castle Glower. And it seems they may know more of the Castle's secrets than Celie. But do they know how to get her back home?

This bestselling series continues with the story of the origin of Castle Glower. Readers who've been enchanted by the Castle's moving walls will be delighted by the Castle's rich and magical history.
Jessica Day George is the author of many books for young readers, including the wonderfully whimsical Tuesdays at the Castle and three books in the Dragonskin Slippers series. Before becoming a full-time writer, she worked as a librarian and bookseller. Jessica lives with her family in Salt Lake City, Utah.
To find out more, visit www.jessicadaygeorge.com.

Jessica Day George studied at Brigham Young University where she enjoyed classes in pottery-making and Old Norse, and dutifully forced herself to sit through biology and math.  Originally from Idaho, she now resides in Salt Lake City, Utah, with her husband, their young son, and a five pound Maltese named Pippin.