Ecosystem Management: Adaptive, Community-Based Conservation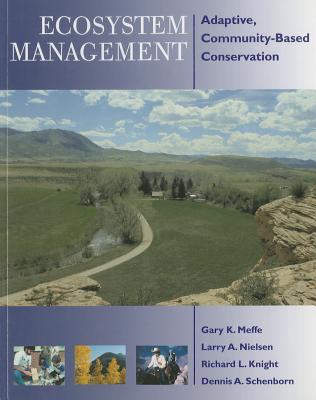 Ecosystem Management: Adaptive, Community-Based Conservation
Unavailable
Today's natural resource managers must be able to navigate among the complicated interactions and conflicting interests of diverse stakeholders and decisionmakers. Technical and scientific knowledge, though necessary, are not sufficient. Science is merely one component in a multifaceted world of decision making. And while the demands of resource management have changed greatly, natural resource education and textbooks have not. Until now.
Ecosystem Management represents a different kind of textbook for a different kind of course. It offers a new and exciting approach that engages students in active problem solving by using detailed landscape scenarios that reflect the complex issues and conflicting interests that face today's resource managers and scientists. Focusing on the application of the sciences of ecology and conservation biology to real-world concerns, it emphasizes the intricate ecological, socioeconomic, and institutional matrix in which natural resource management functions, and illustrates how to be more effective in that challenging arena.
Each chapter is rich with exercises to help facilitate problem-based learning. The main text is supplemented by boxes and figures that provide examples, perspectives, definitions, summaries, and learning tools, along with a variety of essays written by practitioners with on-the-ground experience in applying the principles of ecosystem management.
Accompanying the textbook is an instructor's manual that provides a detailed overview of the book and specific guidance on designing a course around it.
Ecosystem Management grew out of a training course developed and presented by the authors for the U.S. Fish and Wildlife Service at its National Training Center in Shepherdstown, West Virginia. In 20 offerings to more than 600 natural resource professionals, the authors learned a great deal about what is needed to function successfully as a professional resource manager. The book offers important insights and a unique perspective dervied from that invaluable experience.

Garry K. Meffe is Adjunct Professor in the Department of Wildlife Ecology and Conservation at the University of Florida and Editor of the international journal Conservation Biology. Larry A. Nielsen is a fisheries biologist and Dean of the College of Natural Resources at North Carolina State University. Richard L. Knight is Professor of Wildlife Conservation at Colorado State University, and Co-editor of Stewardship Across Boundaries (Island Press, 1998) and A New Century for Natural Resources Management (Island Press, 1995). Dennis A. Schenborn is Chief of Planning and Budget for the Bureau of Fisheries Management and Habitat Protection of the Wisconsin State Department of Natural Resources.