From the Yenisei to the Yukon: Interpreting Lithic Assemblage Variability in Late Pleistocene/Early Holocene Beringia (Peopling of the Americas Publications)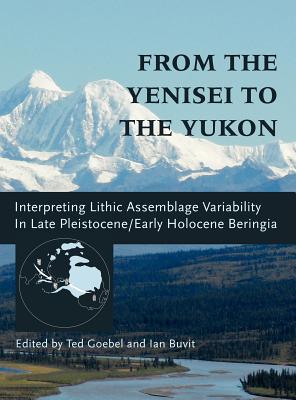 From the Yenisei to the Yukon: Interpreting Lithic Assemblage Variability in Late Pleistocene/Early Holocene Beringia (Peopling of the Americas Publications)
Editor Ted Goebel ,
Ian Buvit ,
Contributions by Norman A. Easton ,
Dr. Robert E. Ackerman ,
Jacob Baus ,
Jeffery A. Behm ,
John P. Cook ,
Yan Axel Gomez Coutouly ,
Barbara A. Crass ,
Kristine J. Crossen ,
E. James Dixon ,
Don E. Dumond ,
Daryl Fedje ,
Kelly E. Graf ,
John F. Hoffecker ,
Charles E. Holmes ,
E. M. Ineshin ,
Brant L. Kedrowski ,
Glen R. MacKay ,
Quentin Mackie ,
Duncan McLaren ,
Ben A. Potter ,
Jeff Rasic ,
Joshua D. Reuther ,
Peter Schnurr ,
Sergei B. Slobodin ,
Natalia S. Slobodina ,
Nicole Smith ,
Robert J. Speakman ,
Karisa Terry ,
A. V. Teten'kin ,
Sergey A. Vasil'ev ,
Brian T. Wygal ,
David R. Yesner ,
Patricia Bernice Young
Unavailable
Who were the first people who came to the land bridge joining northeastern Asia to Alaska and the northwest of North America? Where did they come from? How did they organize technology, especially in the context of settlement behavior?
 
During the Pleistocene era, the people now known as Beringians dispersed across the varied landscapes of late-glacial northeast Asia and northwest North America.
 
The twenty chapters gathered in this volume explore, in addition to the questions posed above, how Beringians adapted in response to climate and environmental changes. They share a focus on the significance of the modern-human inhabitants of the region. By examining and analyzing lithic artifacts, geoarchaeological evidence, zooarchaeological data, and archaeological features, these studies offer important interpretations of the variability to be found in the early material culture the first Beringians.
 
The scholars contributing to this work consider the region from Lake Baikal in the west to southern British Columbia in the east. Through a technological-organization approach, this volume permits investigation of the evolutionary process of adaptation as well as the historical processes of migration and cultural transmission. The result is a closer understanding of how humans adapted to the diverse and unique conditions of the late Pleistocene.
TED GOEBEL serves as associate director of the Center for the Study of the First Americans and is an associate professor of anthropology at Texas A&M University. IAN BUVIT is an adjunct faculty member in anthropology at Central Washington University in Ellensburg, Washington.
ISBN: 9781603443210
ISBN-10: 9781603443210
Publisher: Texas A&M University Press
Publication Date: 08/25/2011 - 12:00am
On Sale: 08/25/2011 - 12:00am
Pages: 408
Language: English
Categories