Some Nerve: Lessons Learned While Becoming Brave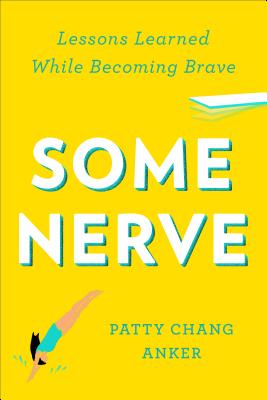 Some Nerve: Lessons Learned While Becoming Brave
One woman's quest to conquer her fears and embrace life and to inspire others to do the same
Patty Chang Anker grew up eager to please and afraid to fail. But after thirty-nine years, she decided it was time to stop being a chicken. Motivated initially to become a better role model for her two young daughters, she vowed to face the fears that had taken root like weeds, choking the fun and spontaneity out of life. She learned to dive into a swimming pool, ride a bike, do a handstand, and surf. As she shared her experiences, she discovered that most people suffer from their own secret terrors of driving, flying, heights, public speaking, and more. It became her mission to help others do what they thought they couldn t, and to feel for themselves the powerfulsense of being alivethat is the true reward of becoming brave.
Inspired and inspiring, "Some Nerve "draws on Anker's interviews with teachers, therapists, coaches, and clergy to impart both practical advice and profound wisdom. Through her own journey and the stories of dozens of others who have triumphed over common fears, she conveys withhumor and infectious exhilaration the most vital lesson of all: Fear isn t an end point, but the point of entry to a life of incomparable joy.
FEARS INCLUDE: Aging, Becoming Boring, Biking, Breaking bones, Bullies, Chaos, Clutter, Cold, Control (loss of), Crime, Death, Driving, Exercise, Failure, Flying, Heights, Letting go, Looking dumb, Math, Nature (esp. sharks), P.E., Pleasure, Public Speaking, Public toilets, Rejection, Roller coasters, Success, Surfing, Tubing, Unemployment, Unknown, Water, Writing. And Wedgies.
Patty Chang Anker is the author of "Some Nerve: Lessons Learned While Becoming Brave "(Riverhead 2013), a memoir about facing her fears and helping others to do the same. She is the blogger behind Facing Forty Upside Down, for which she was named a Good Housekeeping Blogger We Love and a Top 25 Funny Mom at Circle of Moms. She writes the "Some Nerve" blog at PsychologyToday.com and her work has also appeared in magazines and websites from "Marie Claire"to iVillage. When she's not facing her fears she can be found teaching yoga, publicizing other people's work, or chasing her daughters across Westchester County."
ISBN: 9781594486050
ISBN-10: 9781594486050
Publisher: Riverhead Books a Member of Penguin Group (US
Publication Date: 10/10/2013 - 12:00am
On Sale: 10/10/2013 - 12:00am
Pages: 356
Language: English
Categories