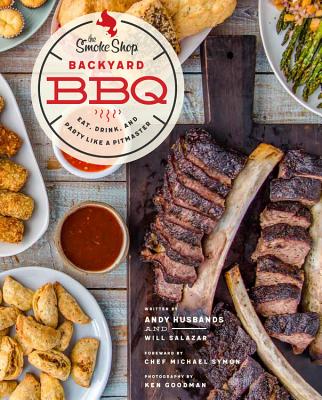 The Smoke Shop's Backyard BBQ: Eat, Drink, and Party Like a Pitmaster
Order Online (Out of Stock In Store)
Every meal is better with BBQ! Make and enjoy recipes from Boston's popular Smoke Shop restaurant in your own backyard.
Join Andy Husbands and Will Salazar as they share their secrets in
The Smoke Shop's Backyard BBQ
. Start off with a classic
Backyard Barbecue
featuring pulled pork, Twice-Smoked Pulled Chicken, deliciously simple brisket, and New Memphis Ribs. With a selection of the Smoke Shop's favorite
sides, drinks,
and
desserts
, it might seem like all you ever needed. Then they go further afield, as the following chapters
bring smokehouse flavor home for every occasion:
Make Taco Tuesday special with Brisket Ropa Vieja Tacos, Pulled Pork Quesadillas, BBQ Empanadas, Street Corn, The Smoke Shop Guac, and Tres Leches Minicakes.
Amp up your next Cocktail Party with Pork Belly Pastrami Skewers, BBQ Peanuts, and smoked Oysters on the Half Shell, paired with a Downtown Derby cocktail.
Get ready for Game Day at home, featuring Salt and Pepper Baby Back Ribs, Pork Belly Burnt Ends, The Smoke Shop's Famous Wings, and The Ultimate BLT Bar.
Additional chapters include
The Big Brunch
, a
Fancy Party
, and even a
Holiday Party
to keep the BBQ going year round!  
Andy Husbands is an award-winning pitmaster who began developing his own style of cooking upon opening Boston's Tremont 647 in 1996 and later, Sister Sorel. His latest culinary venture, The Smoke Shop,pays homage to his extensive background in the competitive barbecue circuit. His honest, approachable fare makes Smoke Shop Boston Magazine's "Best Barbecue Restaurant," and the restaurant has been praised in The Boston Globe, Wine Spectator, Star Chefs, and more. After three decades in the restaurant industry, Husbands serves as one of Boston's most celebrated culinary leaders and foremost authority on regional Barbecue and live-fire cooking. He competed on FOX Television Network's fiery Hell's Kitchen and is internationally-recognized for his BBQ team, IQUE BBQ, which became the first New England team to win the World Champions of BBQ title in 2009 at the Jack Daniels World Championship in Tennessee. Husbands is an active board member of the Massachusetts Restaurant Association, which acknowledged him the 2014 Chef of the Year and a Rodman Celebration Restaurant Chair. He has also co-authored several cookbooks, including Pitmaster, Wicked Good BBQ, Wicked Good Burgers, Grill to Perfection,and The Fearless Chef.
Ken Goodman is a freelance photographer based in New York City. He specializes in food and chef photography, concerts, events, portraits and cookbooks. His work has appeared in Rolling Stone magazine and Art Culinaire, and he has photographed Mario Batali, Jimmy Fallon, Jon Stewart, Michael Stipe, The Edge, Sean "Puffy" Combs, Mariska Hargitay, Stanley Tucci, Jon Bon Jovi, and Anthony Bourdain (among others). Prior to his photography career, he spent 20 years in the restaurant industry as a classically trained chef, culinary educator, and restaurant consultant.