Everyday Apocalypse: The Sacred Revealed in Radiohead, the Simpsons, and Other Pop Culture Icons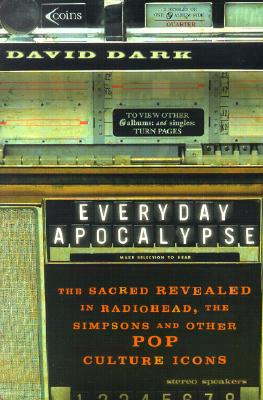 Everyday Apocalypse: The Sacred Revealed in Radiohead, the Simpsons, and Other Pop Culture Icons
The term "apocalypse" usually evokes images of mass destruction-burning buildings and nuclear fallout, or even rapture and tribulation. Often, our attempts to interpret the imagery of the book of Revelation seem to carry us far away from our day-to-day existence.

David Dark challenges this narrow understanding in Everyday Apocalypse, calling his readers back to the root of the word, which is "revelation." Through readings of Flannery O'Connor stories and savvy discussion of The Matrix themes, Dark calls us to imagine the apocalypse as a more watchful way of being in the world. He draws on the sometimes unlikely wisdom of popular culture-including The Simpsons and films like The Truman Show-to highlight how the imagination can expose our moral condition. Ultimately, Dark presents apocalypse as honest self-assessment and other-centeredness in the here and now.

This engaging book holds enormous appeal for readers interested in the pursuit of everyday spirituality. It will delight lovers of literature, popular music, and movies, as well as anyone concerned with a Christian response to popular culture.
David Dark has published articles and reviews in Prism magazine and Books & Culture. He teaches English at Christ Presbyterian Academy in Nashville.
ISBN: 9781587430558
ISBN-10: 9781587430558
Publisher: Brazos Press
Publication Date: 12/01/2002 - 12:00am
On Sale: 12/01/2002 - 12:00am
Pages: 160
Language: English
Categories