May B.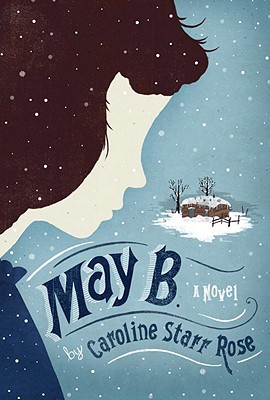 "If May is a brave, stubborn fighter, the short, free-verse lines are one-two punches in this Laura Ingalls Wilder-inspired ode to the human spirit." — Kirkus Reviews, Starred

I've known it since last night:
It's been too long to expect them to return. 
Something's happened.

May is helping out on a neighbor's Kansas prairie homestead—just until Christmas, says Pa. She wants to contribute, but it's hard to be separated from her family by 15 long, unfamiliar miles. Then the unthinkable happens: May is abandoned. Trapped in a tiny snow-covered sod house, isolated from family and neighbors, May must prepare for the oncoming winter. While fighting to survive, May's memories of her struggles with reading at school come back to haunt her. But she's determined to find her way home again. Caroline Starr Rose's fast-paced novel, written in beautiful and riveting verse, gives readers a strong new heroine to love.
CAROLINE STARR ROSE spent her childhood in the deserts of Saudi Arabia and New Mexico, camping at the Red Sea in one and eating red chile in the other. As a girl she danced ballet, raced through books by Laura Ingalls, and put on magic shows in a homemade cape. She graduated from the University of New Mexico and went on to teach both social studies and English in New Mexico, Florida, Virginia, and Louisiana. In her classroom, she worked to instill in her students a passion for books, the freedom to experiment with words, and a curiosity about the past. Visit her at carolinestarrrose.com.