Ask Me About My Divorce: Women Open Up About Moving On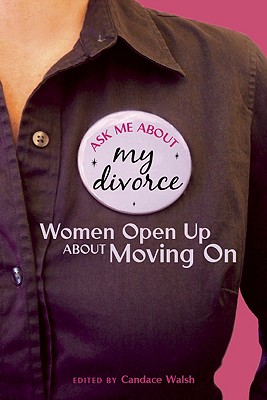 Ask Me About My Divorce: Women Open Up About Moving On
Out of Stock In Store (Available to Order)
It's time to get past the idea that divorce equals failure. Sure, it may not be what you had in mind when you walked down the aisle, but if it's the escape hatch into a better life, it should be filled with more promise. It can be celebrated. 
Ask Me About My Divorce is a spicy, fun, riveting collection of essays by women from all walks of life. With the unifying thread "I got divorced, and the world came into view," the words within will make readers laugh, cry, nod their heads, and feel inspired to do what they need to for themselves. These aren't stories from women tiptoeing around a difficult subject—they're about the ways divorce can be, in fact, a new lease on life.
Candace Walsh has been a freelance writer for almost fifteen years. She has written for Blender, New York Magazine, Mademoiselle, Newsday, Sunset, Travel & Leisure, Mothering, German Vogue, Food & Wine, and more. Walsh is the articles editor at Mothering, co-founded Mamalicious magazine, and has written three books: Moving to New York (Running Press), American Atelier (Gibbs Smith) and Stone Design for the Home (Gibbs Smith). She lives in Santa Fe, New Mexico.

Contributors include: Heidi K. Brown, Laura Lee Carter, Jessica Cerretani, Theresa Coates, Anne Field, Spike Gillespie, Julie Geen, Janet Hardy, Sonja Herbert, Amy Hudock, Marrit Ingman, Leigh Anne Jasheway-Bryant, Melanie Jones, Rozella Kennedy, Reenita Malhotra, Theo Pauline Nestor, Michele Peterson, Sabrina Porterfield, Michal Reed, Sue Sanders, Elaine Soloway, and Samantha Waltz.