Race, Reform, and Rebellion: The Second Reconstruction and Beyond in Black America, 1945-2006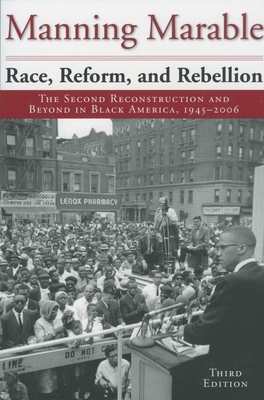 Race, Reform, and Rebellion: The Second Reconstruction and Beyond in Black America, 1945-2006
Since its original publication in 1984, Manning Marable's Race, Reform, and Rebellion has become widely known as the most crucial political and social history of African Americans since World War II. Aimed at students of contemporary American politics and society and written by one of the most articulate and eloquent authorities on the movement for black freedom, this acclaimed study traces the divergent elements of political, social, and moral reform in nonwhite America since 1945.
This third edition brings Marable's study into the twenty-first century, analyzing the effects of such factors as black neoconservatism, welfare reform, the Million Man March, the mainstreaming of hip-hop culture, 9/11, and Hurricane Katrina. Marable's work, brought into the present, remains one of the most dramatic, well-conceived, and provocative histories of the struggle for African American civil rights and equality. Through the 1950s and 1960s, Marable follows the emergence of a powerful black working class, the successful effort to abolish racial segregation, the outbreak of Black Power, urban rebellion, and the renaissance of Black Nationalism. He explores the increased participation of blacks and other ethnic groups in governmental systems and the white reaction during the period he terms the Second Reconstruction. Race, Reform, and Rebellion illustrates how poverty, illegal drugs, unemployment, and a deteriorating urban infrastructure hammered the African American community in the 1980s and early 1990s.
Manning Marable (1950-2011) was professor of public affairs, history, political science, and African American studies at Columbia University and the director of the university's Center for Contemporary Black History. He wrote or edited twenty-two books, including Living Black History, The Autobiography of Medgar Evers (coedited with Myrlie Evers Williams), Freedom (coauthored with Leith P. Mullings), The Great Wells of Democracy, Black Leadership, and How Capitalism Underdeveloped Black America.