Breakfast at the Exit Cafe: Travels Through America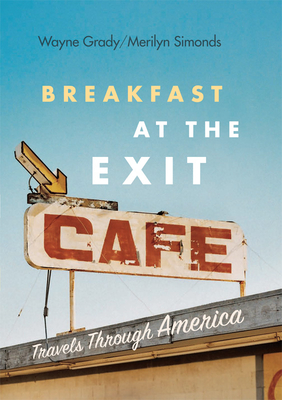 Breakfast at the Exit Cafe: Travels Through America
Order Online (Out of Stock In Store)
What begins as a road trip through America soon becomes a journey of discovery into themselves and into the heart of the next-door neighbour they thought they knew. For Wayne Grady, the thrill of landscape and history is tempered by memories of racism and his own family roots. Merilyn Simonds, her ear tuned for the offbeat, finds curious echoes of the ex-pat promised land she grew up with. Together they travel against the tide of American history, following in the literary tire tracks of John Steinbeck, William Least Heat Moon, and Francis Trollope.
Grady
and
Simonds
experience the splendors of the Mojave Desert, the Grand Canyon, the Mississippi River, and the bayou's of Louisiana and the Outer Banks and contemplate the impact of geography on culture and of culture on landscape. They observe America from the outside, yet feel strangely at home. Part travelogue, part exploration, part mid-winter love story told with wit and acuity by one of Canada's most engaging literary couples,
Breakfast at the Exit Cafe
is a journey into the reality behind the cultural myth that is America.
Wayne Grady is one of Canada's finest science writers and a Governor General's Award-winning translator. He has authored eleven books of nonfiction, translated fourteen novels, and edited more than a dozen anthologies of short stories and creative nonfiction. Merilyn Simonds is the author of fourteen books, including the novel The Holding, named a New York Times Editor's Choice, as well as the acclaimed works of literary nonfiction The Lion in the Room Next Door and The Convict Lover, a finalist for the Governor General's Award.
ISBN: 9781553658269
ISBN-10: 9781553658269
Publisher: Greystone Books
Publication Date: 08/23/2011 - 12:00am
On Sale: 08/23/2011 - 12:00am
Pages: 316
Language: English
Categories