The Call: The Desire to Finish Strong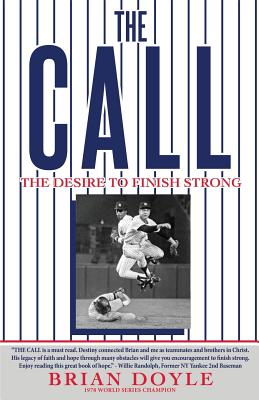 The Call: The Desire to Finish Strong
Out of Stock In Store (Click to Order)
What People Are Saying about "The Call"
"The Call is one of the most heartfelt, honest and truly inspiring accounts of the life journey of my teammate, who I am honored and humbled to also call my dear friend. Brian's story is a true testament of his devotion to the love of his life, Connie, and his beautiful family as well as his strong faith and unwavering determination to overcome any obstacle in life by always trusting in the Lord. No matter what your belief is or what challenges you may face, Brian's message will resonate with you."
--Bucky Dent, Starting shortstop for the New York Yankees in World Series Championships, 1977 and 1978

"Brian Doyle is my friend, teammate, and my hero. Read "The Call" and find out how this Christian gentleman has captured the love and respect of everyone he meets. Brian has faced many challenges in his life, but his faith in Christ has never wavered. I'm proud to call him my friend. The world needs more Brian Doyles."
--Ron Guidry, New York Yankees, Pitcher and Pitching Coach, Cy Young Winner, Golden Glove Recipient

"Brian's life story is important to read, he has proven to be a great athlete, instructor, mentor, spiritual leader and a loyal friend. Learning about his life will give spiritual inspiration and important life lessons to all."
--Chris Chambliss, Two-Time World Series Champ and Golden Glove Recipient

"I have known Brian Doyle for over 30 years. His courage, integrity and faith have been an inspiration to me in my own walk with the Lord. This book will give you a look into Brian's journey, his battles, successes, and his heart."
--Bill Rose, Limited Partner New York Yankees

Brian and Connie Doyle have been married 45 wonderful years. Brian was the leading hitter in the 1978 World Series. Brian is the Director of Curriculum and Connie is the Office Administrator of Global Sports Ministry a 501c3 corporation. Brian and Connie have shared over 40 years in professional baseball and over 15 years in ministry. Their adult children are Kirk Doyle and Kristin Hamaker. Kirk is married to Amy and have three children, Parker, Payton, and Paris. Kristin is married to Trevor and have two children, Tyson and Reagan. Brian and Connie live in the Atlanta area close to their family.
ISBN: 9781545657379
ISBN-10: 9781545657379
Publisher: Global Publishing
Publication Date: 04/22/2019 - 12:00am
On Sale: 04/22/2019 - 12:00am
Pages: 314
Language: English
Categories
Christian Living - Inspirational